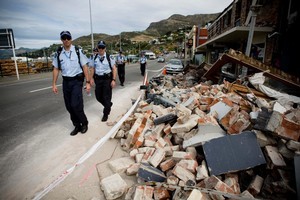 Lyttelton's quake-damaged historic police station is not to be rebuilt, police have decided.
Inspector Malcolm Johnston, Southern Area Commander, said engineering reports had determined it was uneconomical to repair the station.
He said the news was sad for police, local staff and the Lyttelton community.
"The station is an iconic building for the port town, which has already lost of many of its historic buildings."
The station was built between 1880 and 1882, and opened in 1882, replacing an earlier structure. It is described as being designed in the Victorian Italianate style of the period.
During the February 22 earthquake the building suffered significant structural damage including extensive cracking to the main walls.
"Over the past several months we have worked with our engineers to explore every possible opportunity to repair the station," Inspector Johnston said.
"However we have received advice that to repair the building to an adequate standard would cost at least $1.5 million dollars. That is significantly more than the cost of a new station, and is not economic."
Inspector Johnston said last week's quakes had caused further damage, increasing the cost of repairing the station.
"But we remain committed to Lyttelton and we are giving the local community an assurance that Police will retain a presence here and a new facility will be built."
Police in Lyttelton have been working out of a garage adjacent to the station since February, and a portable building has recently been added to provide further amenities.
Additional temporary facilities are likely to be added to ensure the station can function effectively in the medium-term.
Police may now look at developing a shared facility in the town with other emergency services including the Fire Service and St John Ambulance.
- NZHERALD STAFF