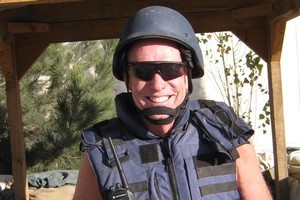 Former MP Chris Carter's first day on the job in Kabul was the same day the Taleban launched five simultaneous attacks in the Afghan city.
"I saw the attacks and was grounded in the office for about 13 hours. Spent bullet casings were falling in our compound as helicopter gunships attacked the insurgents in an adjacent building," Mr Carter said. "In my second week in Kabul, former President [Burhanuddin] Rabbani was assassinated very close to my office. I heard the suicide bomb go off."
And this month he watched victims of a suicide bombing at Abdul Faisal mosque being carried to hospital.
Working in the war-torn Afghanistan often requires the former Labour MP for Te Atatu to wear body armour as he visits different provinces observing and advising on local government in a country known for corruption.
Mr Carter started his work in September, having been thrown out of the Labour Party after circulating anonymous letters to journalists about an impending coup against former leader Phil Goff.
From Kabul, he said he did not miss Parliament and should have left in the aftermath of the fallout.
"Although I will never regret the time I spent as an MP ... it was clearly time to move on and do something new. I should have left Parliament for a job like the UN in 2009."
As part of Mr Carter's job he has been to Bamiyan and dined with the New Zealand reconstruction team.
"I have about 90 national and international staff working for me in Kabul and five regional centres.
"My challenge is to make ordinary Afghan people start to recognise that strong, democratic, effective local government structures are relevant to their lives and have value.
"Without that grassroots change, democracy and participation in democratic processes is never going to happen in Afghanistan."
He is living in the insulated world of the UN compound in Kabul, in a converted metal shipping container.
"So far I have not been hit by any tummy bugs, unlike many other international staff working here. We are not allowed to walk on the streets or visit local shops, except a few secure supermarkets. All foreigners living in Afghanistan live in secure compounds guarded by armed guards 24 hours a day.
"We move around in armoured bomb-resistant vehicles and this rather insulates us from the locals.
"Living in this security bubble is very restrictive but those are the rules."
He has a week's leave every six weeks and he has already returned to see his partner, Peter Kaiser.
"Afghanistan is a non-family posting for UN staff so everyone here working for the UN is on their own.
"My partner remains in Auckland and this will be the first Christmas in 38 years we have been apart."