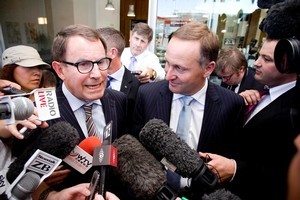 The embarrassment of the general elections is at the top of our minds, suggests a Herald-DigiPoll survey.
The pollsters asked the question: "Who do you think has been NZ's biggest embarrassment this year?"
It did not offer options from multiple choices, and 37 per cent said they did not know.
But among responses, Prime Minister John Key - the architect of the memorable three-way handshake at the Rugby World Cup - took top honours with Act's Epsom candidate, John Banks, now the electorate's MP.
The two co-starred in a recording of dubious legality last month when they met for tea in Epsom and a cameraman left behind his microphone.
The Herald-DigiPoll survey said the combination of Mr Key, Mr Banks and the tape was put forward as the country's biggest embarrassment of the year by 13 per cent of respondents. However, it was not clear whether respondents found the event itself, its purpose or the response afterwards embarrassing.
Former Breakfast host Paul Henry came second despite flying under the radar all year following his resignation from Television NZ in 2010.
He was pressured to leave the show after he publicly questioned whether the then-Governor-General, Sir Anand Satyanand, was "even a New Zealander", suggesting the Auckland-born former judge - of Indian descent - did not look and sound like one.
Labour MP Phil Goff and his party were picked as the third most embarrassing.
The other candidates who registered measurable votes in the poll were Mana MP Hone Harawira, the Black Caps, former Act leader Don Brash, rugby player Zac Guildford, NZ First leader Winston Peters, radio host Michael Laws and caddie Steve Williams.
Political media commentator Dr Claire Robinson, of Massey University, said the strong showing of politicians in the embarrassment stakes was hardly a surprise.
Politicians have been in the public eye a lot with the elections and were, by simply being seen so much, more likely than most to have caused the country to cringe.
But bloopers could stoke a politician's popularity when policy failed to cut through, Dr Robinson said.
"Politicians and their minders try to avoid blunders and making gaffes, but often those are the moments people think they're only human," she said.
"It personalises things that are thought of as boring and lofty and brings politicians down to an even plane with ordinary people.
"It can create empathy. It doesn't necessarily backfire on the politicians."
The poll of 500 people was taken between December 9 and 16 and had a margin of error of 4.4 per cent.
What/who has been 2011's biggest embarrassment?
John Key-John Banks Teapot Tape 13.1%
Paul Henry 11.1 %
Labour Party and Phil Goff 8.6%
Hone Harawira 3.4%
Black Caps 2.9%
Don Brash 2.5%
Zac Guildford 2.2%
Winston Peters 2.1%
Michael Laws 0.9%
Steve Williams 0.5%
Others 11.1%
Don't know 37.4%
None 4.3%
(Responses were unprompted)