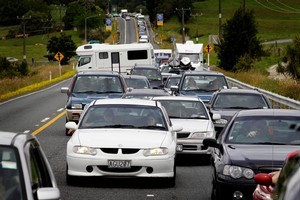 Traffic flowed smoothly into the Coromandel yesterday as the new Kopu bridge lived up to its hype, but for Aucklanders headed north through the Northern Gateway, the gridlock remained depressingly familiar.
Motorists experienced few delays in the inaugural holiday season for the new two-lane $47 million bridge into the Coromandel but there was some pressure over the one-way Pepe bridge at Tairua.
Even that, however, wasn't too bad as traffic monitors managed the flow in and out of the town and by early afternoon about 10 cars waited to cross.
New Zealand Transport Agency state highway manager Kaye Clark said traffic was heavy but flowing.
The agency was watching to see if the Kopu bridge would put extra pressure on the one-lane bridges on either side of Tairua.
Yesterday traffic slowly weaved its way towards Thames along State Highway 2 past Maramarua where the new 90 km/h speed zone was introduced.
For the first time in decades motorists continued straight over the Kopu bridge without waiting for their turn.
About 18,000 vehicles cross the bridge during the peak of summer.
Kopu Station Hotel owner Paul Ferguson said the feedback from customers had been positive and the only delays he had heard of were along the Kopu-Hikuai Rd towards Whitianga.
He said his turnover was the same as previous years despite the traffic now bypassing the entrance of his pub.
Thames Pak'nSave duty manager Selina Myers drives over the Kopu bridge every day and said she had noticed traffic was a bit faster.
"We thought it might affect the shopping experience but so far so good. As far as I know everyone is saying the traffic is going quite smoothly."
Meanwhile, a fatal accident at Wellsford about 9.30am triggered long waits on the Northern Gateway toll road which persisted until late afternoon. Even leaving Auckland proved tiresome as traffic crawled both ways from mid-morning.
The trip from Auckland to Wellsford, about 77km, usually takes about an hour. But traffic was yesterday backed up from the top of the Northern Motorway and stopped completely in places.
Cars were crawling 500m every 10 minutes at some stages.
Auckland motorway traffic was heavy and there were delays near Ellerslie after a couple of lanes were closed to fix a broken street lamp, and around Victoria Park as people became familiar with the new tunnel.