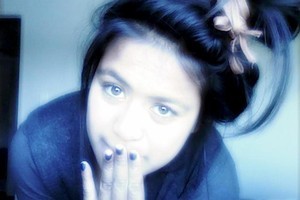 Hours before she was killed with her sister in a Christmas Day crash, a girl posted a moving message to her late grandmother and talked about the fun she was having with her family.
The girls, aged 13 and 14, died when the car they were travelling in collided with another vehicle on Welcome Bay Rd near Tauranga.
Yesterday, wooden crosses bearing the names of Merepeka Morehu and Brooklyn Clark were put up at the accident site, and friends paid tributes to them on Facebook.
The girls were from Tauranga and it is thought they were going home after spending Christmas with family.
Earlier in the day, Brooklyn wrote on her Facebook page that she was spending time with her cousins, and posted a message to her late grandmother that said: "Merry Christmas, Nan, I love you."
Later, she wrote: "Wish my nan was here to kick it with us for today. Miss you nan, love you heaps."
Police are appealing for information to help them "complete the picture" of what led to the crash.
The head of the Tauranga CIB, Detective Senior Sergeant Greg Turner, said police were particularly interested in speaking to anyone who might have observed the activities of three motor vehicles in the Welcome Bay area on Christmas Day.
They were a maroon Honda, a black Mitsubishi Lancer and another Honda, coloured blue.
All three cars were in the Welcome Bay Rd area between 3.30pm and 4.30pm that day.
Mr Turner said it was too early to say what, if any, involvement these vehicles had in the collision.
Police said the crash happened when a speeding car passed another on Welcome Bay Rd and collided head-on with a third vehicle.
Four people were taken to hospital. One was a 2-year-old girl who was flown to the Starship in Auckland with serious injuries.
The others were a 15-year-old girl and the drivers of both vehicles - men aged 20 and 39.
Distraught survivors emerged from the wreckage of one of the vehicles crying and wailing, joined soon after by relatives who live nearby.
Grieving family members, including the girls' father, leaned against cars, weeping and embracing one other, as emergency services worked to clear the accident scene.
Family members mourned the girls on several Facebook pages set up in their honour and on their mother's page.
"RIP my little cousins that I lost in a car crash," wrote Chardia Morehu. "I love you always. You have gone too early, so young and beautiful. I will be always thinking of the times we enjoyed kicking together at your mum's. Taken at a mean young age."
Mere Davey wrote: "Sorry for the loss of your two girls, my cousins Merepeka Morehu and Brooklyn Clark. As they now rest in peace where koro will be waiting for them to catch that bus to paradise."
Relatives in Australia were also stunned by the news.
"I am devastated to hear such sad news and my heart and love go out to you," Wendy Clark posted. "Mum sends her love. She is in shock with the loss of two of her mokos ..."
On the page "RIP Brooklyn Clark and Merepeka", friends wrote more heartfelt messages.
"Everyone is going to miss your smiles, laughter, cheekiness, everything else you did," wrote one. "As people say, it was tragic and it came as a shock but Jesus takes the bestest with him."
Another wrote: "Two very pretty girls lost their lives today during a car crash. We wish you the best up in the sky with God. Kick it with Jesus on his birthday."
Last night, the road toll for the Christmas period was six.
One of the victims was a 52-year-old woman killed at 9.30pm on Christmas Day when she walked in front of a courier van on State Highway 1 at Horotiu in Waikato.
The woman had left a family function with a man. They stopped on the side of the road and left their car; the woman stepped into the northbound lane and was struck by the courier van.
The driver stopped but was confronted by angry relatives of the dead woman and fled a short distance for his own safety.
Police said speed and alcohol were not factors in the accident.
Yesterday, Daniel James Mercer, 20, was named as the man who lost control of his car and plunged into Christchurch's Avon River on Christmas Eve.
CAN YOU HELP?
Police want to speak to anyone who saw a maroon Honda, a black Mitsubishi Lancer and a blue Honda in the Welcome Bay area and on Welcome Bay Rd between 3.30pm and 4.30pm on Christmas Day.
Call the Tauranga police on (07) 577 4300.
- additional reporting: Jamie Morton