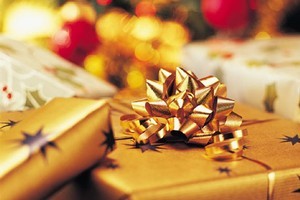 Thousands of unwanted Christmas presents are being flogged off online, with some listed within hours of being opened.
More than 18,000 items have been added to online trading site Trade Me since lunchtime on Christmas Day, said spokesman Paul Forde.
The trading began as the wrapping paper barely hit the ground, with 500 listings between 7am and 9am, before surging between 7pm and 11pm last night, he said.
Mr Ford said Kiwis appeared to be selling linen, stationery, electric shavers, DVDs, ties, chocolates and kitchen appliances this year.
"There were a few traditional things. I think often people know that this kid or that dad wanted that Barry Manilow CD or that Susan Boyle DVD or whatever it is, so two or three people will get it for them and they'll be flicking off the surplus copies.
But more often than not, presents were listed from men who had "just stuffed up'' buying for the lady in their life, he said.
"They got the wrong size, the wrong colour, the wrong style. I think that men don't seem to have learnt their lesson on that one, and that's come through year after year. This year handbags and sunglasses in particular seem to be the thing they've rolled the dice on and got it wrong.''
He said Christmas present listing on the site had climbed steadily over the last three years, and this year's listings were up 20 per cent on last year.
Last December unwanted gifts was one of the top 20 searches on Trade Me, but not everybody was bold enough to admit they didn't want the gift, he said.
"The thing about Trade Me is that it's made it easier for people I suppose to get that stuff and sell it to the other end of the country, and it takes away the awkwardness and the guilt of the person who gave it to you stumbling across the gift and seeing it.''
Earlier this month, a poll by research house TNS found that 29% of New Zealanders thought it was acceptable to regift a Christmas present.
Mr Ford said the younger generations were more likely to sell off presents that didn't tickle their fancy.
"I think the older generation aren't quite so ruthless in listing things as the younger people. It may not cross their minds that people would dare to get rid of the handkerchief or the soap on a rope they got their nephew for Christmas.''
While he hadn't heard any horror re-gifting stories, he had heard one funny anecdote, he said: "Person A gave person B a present. Person B had sold it on TradeMe and person A had bought it back, and gave it to them the following year as part of a matching set.''
A number of "interesting'' gifts had popped up on the site so far, he said: "The ones that caught my eye when I had a quick look, there was a pretty interesting looking butterfly lamp which had the sales pitch of being for the lady in your life, which I thought was probably going to be pretty risky for the second buyer.
"The other one that caught my eye was a pretty flash convertible Toyota that the guy's wife just didn't want. It was too low to the ground.''
None of the listings could top a child-sized Elvis suit that was listed in December 2010, he said.
"But hey, it's early days yet, and I'm sure there are lots of weird and wonderful things bound to crop up.''
Top three tips for regifting
1. Only sell new items, accompanied by as much of the undamaged original packaging as you can muster.
2. Remove the Christmas card.
3. Don't sell items with inscriptions or personal messages.
Odd gifts back online
Unwanted `Elegant tall cat' as `I've too many'
Unwanted Christmas Toyota MR-S 2000
Christmas socks bought and made in US
- APNZ