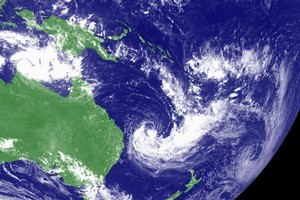 Holidaymakers should enjoy the fine weather while it lasts because the tail end of a cyclone could spoil New Year's Eve celebrations, say forecasters.
Cyclone Fina will not land a direct hit on New Zealand but it could cause heavy rain to fall in the upper half of the North and South Islands, affecting popular holiday spots in Northland and the still-drenched Nelson region.
MetService predicted that North Island weather would remain fine today and tomorrow, with a slight chance of an afternoon shower and air temperatures between 20C and 26C.
But a question-mark looms over the last few days of the year.
Fina, which is sitting north of New Zealand, was a full-blown cyclone for only half a day, but the warm, moist air behind it is likely to cause muggy conditions, and possibly rain.
MetService forecaster Allister Gorman said: "The computer models are still jumping around a bit, but it would appear that at least the top half of the North Island and the northwest part of the South Island will see quite a deterioration in the weather as we head towards New Year's.
"Tomorrow those models might [change], but essentially this golden spell of weather will come to end by the middle of the week for quite a few people."
Weatherwatch head analyst Philip Duncan said that most of the South Island and the east of the North Island (Hawkes Bay, Gisborne) would be dry and warm in the last days of the year, but "a huge question-mark" remained over the rest of the country.
Mr Duncan picked Central Otago as the best spot for New Year's Eve.
He said that after a relatively cool December, temperatures should begin to climb as the wind changed to a northerly direction and dragged down warm air from the Pacific.
The highest temperatures today would be found at inland areas, with Masterton likely to be the warmest spot at around 26C.
Cyclone Fina has generated stronger swells from the Tasman Sea and good surfing conditions on the west coast of the North Island.
Beaches such as Piha and Muriwai are expected to get swells of between 1.3m and 2.2m all week.
Across the Tasman, Cyclone Grant has authorities in Darwin on high alert. Grant was expected to make landfall as a category two cyclone overnight or this morning, bringing 130km/h winds to remote northern spots.
MetService 5-day forecast
Today: Mostly fine with light easterlies and a chance of an afternoon shower.
Tomorrow: Fine for most of the country, apart from some morning cloud and drizzle, and some showers in the Far North.
Wednesday: Fine in the east of both islands, cloudy in the west, fine in central parts with showers in the northern North Island.
Thursday: Rain or showers spreading to most of the country except the North Island's east coast.
Friday: Rain for most of the North Island.