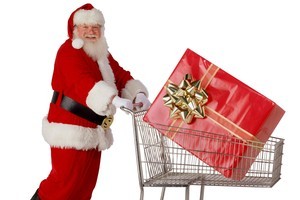 Kiwis are making their lists and checking it twice early this year by heading out in droves on the days leading up to Christmas Day.
Paymark, which processes around 75 per cent of all electronic transactions in New Zealand, today said high figures had been recorded in the two days leading up to Christmas.
Yesterday, Kiwis pushed just over $230 million through the Eftpos network, an increase of $6.3 million on the same shopping day last year.
Today looked set to record similar figures in terms of volume and value of transactions based on the data so far, said Paymark CEO Simon Tong.
Mr Tong said the peak in shopping sales normally occurred on Christmas Eve alone, but this year was different with two very strong days of trading ahead of the big day.
"Kiwis have had all week to get their Christmas requirements sorted and it looks as thought we've used those days well - spending across this past week and in fact the month as a whole has been strong."
"Christmas falling on a Sunday this year has perhaps allowed Kiwis to avoid a mad dash today.''
Mr Tong said growth in electronic transactions had been steadily increasing over the past couple of weeks and were up on last year's figures.
Paymark figures recorded a 4.7 per cent rise across New Zealand in the first 20 days of December, with just under $3 billion spent in shops between December 1 and December 20 - an extra $133 million on the same time period in 2010.
However for one region, the last-minute dash may come more out of necessity than anything else after shopping in Christchurch was brought to an abrupt halt by four earthquakes.
"The earthquakes yesterday saw the value of shopping on our network in Christchurch drop around 17.5 per cent compared to the same day in 2010. We've recently seen Christchurch returning to positive growth, and this latest event is yet another blow for the retail community.''
"When you take out the impact of Christchurch, the national growth rate for the country is sitting at around 5.4 per cent for Friday. Similar growth rates have been sustained for the entire month - this is a fairly positive result for retail and certainly an improvement on last year,'' he said.
Paymark regional figures comparing Friday 23 Dec 2011 and Friday 24 December 2010
Value of spending ($millions)
Auckland/Northland
2011: $91.8
2010 $86.5
Waikato
2011: $18.3
2010: $17.5
Bay of Plenty
2011: $15.9
2010: $15.6
Gisborne
2011: $2.2
2010: $2.4
Taranaki/Taupo
2011: $6.0
2010: $5.7
Hawkes Bay
2011: $6.9
2010: $7.0
Wanganui
2011: $2.5
2010: $2.6
Palmerston North
2011: $7.5
2010: $6.5
Wairarapa
2011: $2.4
2010: $2.4
Wellington
2011: $22.8
2010: $21.9
Nelson
2011: $5.0
2010: $4.6
Marlborough
2011: $3.0
2010: $2.9
West Coast
2011: $1.9
2010: $1.8
Canterbury
2011: $21.1
2010: $25.6
South Canterbury
2011: $4.4
2010: $4.1
Otago
2011: $12.3
2010: $11.3
Southland
2011: $6.4
2010: $5.7
New Zealand
2011: $230.2
2010: $224.0
- APNZ