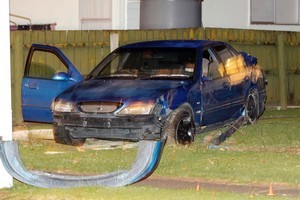 A man arrested after his vehicle ploughed into two girls as they walked along a South Auckland street is a disqualified driver who was allegedly drinking and speeding at 103km/h - more than double the speed limit.
Fereti Aiono, 27, will appear in the Manukau District Court today charged with causing injury to the girls, aged 8 and 11, while driving with excess breath alcohol in Manurewa just before 8pm on Thursday.
Witnesses said Aiono's Ford Fairmont hit the kerb on Wordsworth Rd before it swerved across the street and wiped out a fence.
One of the girls was pinned between the front and rear wheels on the right-hand side of the car, which is registered to Aiono.
Last night, the 8-year-old was in a serious but stable condition with "major" injuries in the Starship hospital. The 11-year-old was in Middlemore in a stable condition.
Police said Aiono might face more serious charges. Counties Manukau road policing manager Inspector Heather Wells would not be drawn on the result of Aiono's breath-alcohol test but said he was "in excess" of the legal limit.
"He was speeding, had consumed alcohol and was disqualified. My serious crash unit officers have confirmed he was travelling at 103km/h in a 50km/h area."
She said the families of the girls, who were friends and lived near the crash site, were "very distraught".
"It's something that nobody wants to have happen, and especially not at Christmas. The children were walking along probably excited about Christmas, talking about their holidays. And then, a car has unexpectedly crashed into them."
Aiono's sister Ana said she heard about the crash at 6.30am yesterday.
"My sister rang and told me. He is my youngest brother ... It's bad, just so bad," she said. "He is a good person. He is a quiet man, honestly, he is good."
She said Aiono had a wife and four children, the youngest a newborn.
"They lived with me for two weeks when the baby came. There were six of them and they lived in my sleepout and my garage. But that wasn't suitable for a newborn baby."
She had a message for the injured girls and their families.
"If that was my kids, I would be so, so sad. Christmas is coming soon, it's supposed to be a good time for parents and children ... I feel so sad for them and for his own kids.
"I just feel so sorry. This is very serious."
Residents of Wordsworth St claimed Aiono tried to drive away after the crash, but the car would not start. They said he and his passenger tried to run away, but bystanders chased them and took them back to the scene.
Antainette Peehikura said she chased one of the men, grabbed him by the arm and told him, "You've got to face up to the consequences of what you've done".
Ms Wells confirmed bystanders prevented the men from leaving the scene. "It was great work."