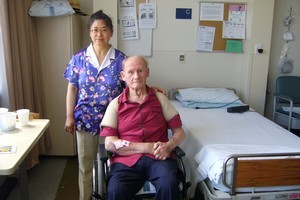 John Pinder, aged 82 and badly disabled by a stroke, wants to go home for Christmas - but Auckland City Hospital says he should go into a private hospital.
"I want to go home; I do indeed," he said. The former electrician, originally from Britain, can't move his right leg or arm and is confined to a wheelchair, but seemed alert and coherent when he spoke with the Weekend Herald yesterday. Mr Pinder's partner, Jufan Zhang, 54, a permanent resident originally from China, is battling the Auckland District Health Board over its plan to put him into a residential care facility.
The board refused to discuss Mr Pinder with the newspaper yesterday. It is seeking a Family Court order to shift him to a private hospital for his own safety.
A senior DHB social worker said in a statement for the court that Mr Pinder had significant cognitive impairment - Ms Zhang disputes this - and lacked insight into his plight.
Mr Pinder was unable to walk, had chronic heart failure, high blood pressure, drank alcohol excessively, had eye disorders, a recent hip fracture, fractured his shoulder in May, and had a pacemaker and some spinal compression fractures, the social worker said.
He no longer required acute hospital care and his clinical team recommended he be shifted to a private hospital.
"There would not be sufficient funding available to provide the high level of care that Mr Pinder requires at his home.
"Mr Pinder requires assistance with all his activities of daily living and needs 24-hour supervision. He needs two people and a hoist to be transferred.
"There is concern that he would be unsafe if he returned home. Ms Zhang would be unable to manage Mr Pinder's needs."
A DHB psychiatric report said Mr Pinder could not foresee the consequences of neglect and injury if he returned home where his care needs would not be met.
But Ms Zhang, who claims to have had experience in looking after the elderly sick even before she met Mr Pinder, believes she will be able to cope with caring for him at home.
"I've also got a sister and close friends who are committed to help, so I won't be in it alone," she said in Mandarin.
Mr Pinder met Ms Zhang in 2002, when she arrived from China; they became a couple in 2006.
Despite not speaking the same language, Ms Zhang said, they have grown to know each other so well that they "can understand each other even without speaking" or through body language.
"The house seems empty without John. I too feel very empty and sad, which is why I really want him home for Christmas."
Ms Zhang said she was committed to fulfilling Mr Pinder's wish of being able to "die happy at home" rather than "live unhappy in a rest home".