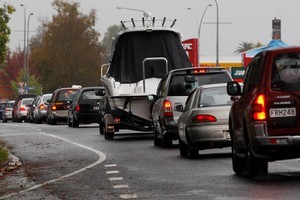 They're tough on speeding, drunk and cellphone-using motorists - now police are turning their attention to those below the speed limit.
Officers will aim to keep busy holiday roads moving by keeping an eye on slow drivers, and say those caught holding up traffic could face fines.
National road safety adviser Superintendent Paula Rose said people were welcome to drive slowly but they needed to be courteous by allowing other road-users to pass safely.
"We are acutely aware of how slow drivers can cause frustration and impatience with other drivers, and sometimes people make bad choices to overtake in a bad spot because the person in front has a queue of traffic behind them," she said.
"When you've got car after car behind a driver going 60km, 30km or 20km below the speed limit, all we're saying is when there's an safe opportunity to pull over to the side of the road, please, please do so."
In some cases, slow driving could amount to careless driving, which could lead to fines or licence disqualification, Ms Rose said.
"But we don't want to take that negative enforcement option and have to write tickets, what we want is for everybody across the network to act safely."
Among those preparing to crack down on inconsiderate drivers is Eastern District road policing group Acting Senior Sergeant Clint Adamson, who said police would be out in force in Hawke's Bay over the holiday period.
"Essentially we are focusing on speed and slow drivers, those that don't pull over and hold up a whole lot of traffic," he said.
Careless driving, speeding and drink driving were still considered the three main causes of injuries or deaths on New Zealand roads, and Mr Adamson said at this time of year tired and distracted drivers caused crashes too.
"If you're tired, pull over and have a break, if something is distracting you, pull over to sort it out," he said.
This week, the official road toll showed that 269 had lost their lives on New Zealand roads so far this year - 99 people fewer than last year.
Transport Minister Gerry Brownlee said the country was on target for one of its lowest tolls in 50 years and urged people to do their bit over Christmas to keep it that way.
"More lives are being saved and injuries prevented but every road user must continue to take personal responsibility on the roads to stay safe."
A reduced speed tolerance will be enforced nationwide, meaning anyone caught driving more than 4km/h over the speed limit can expect a fine and demerits. Police will also be taking drink-drive breath tests at all times of the day.
The official holiday period begins at 4pm today and ends at 6am on Wednesday, January 4. Twelve people were killed in road crashes during the period last year.
- APNZ