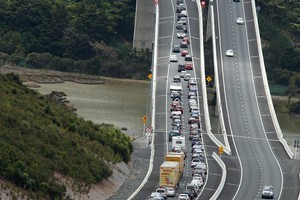 Lack of sleep and an early Christmas morning wake up call could be a deadly combination for the 1.7 million Kiwis heading away on their summer holiday, road safety experts warn.
About 45 per cent of all New Zealanders are going away for Christmas and 85 per cent of them are planning to travel by car, a recent study showed.
Though drink driving and speeding are often thought of as the biggest road safety threats, fatigue is being named as a top danger this year.
Police are warning drivers to beware if late night present shopping and children jumping on the bed at 6am have left them feeling tired.
Chairman of a joint Australian and New Zealand police commissioners association Jon White said driving tired is as dangerous as driving drunk.
"They have a similar effect on our ability to drive safely. Tiredness, no matter the length of the journey, can lead to a serious or fatal accident.
"A bit of forward planning can avoid misery."
Fatigue is a factor in up to 13 per cent of crashes and seven per cent of road injuries in New Zealand
Australian data shows a significant increase in fatigue-related crashes in holiday periods such as Christmas.
Many of the fatigue-related accidents are serious, as drivers make no attempt to avoid or prevent the crash.
Mr White urged drivers to factor in stops during their holiday journey and to avoid driving during times they would normally be sleeping.
Meanwhile, car review website dogandlemon.com urged drivers to keep their headlights on under sunny skies to survive Christmas.
It cited a World Health Organisation survey showing drivers who keep their headlights on during the day have 10 to 15 per cent less crashes.
Other reports suggest there would be a significant reduction in the road toll if keeping headlights on was made law.
Editor Clive Matthew-Wilson said New Zealanders should keep their car headlights on at all times during the Christmas exodus.
"A car with its headlights on is easier to spot than a car with its headlights off. It's that simple."