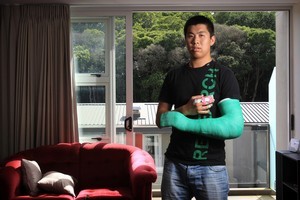 A man who severed nerves, muscles and tendons when he crashed through a glass door at a party is urging others to be sensible during the silly season as he faces months of rehabilitation.
Michael Tiang was celebrating his 23rd birthday at a party in Auckland on December 10 when fun turned to horror.
"My mate was coming through the door and he said jump up and I'll catch you. He lost his footing when I jumped on to him and we crashed into the glass door from the inside of the house," he told the Herald.
"I cut my entire left arm open right down to the bone. I severed tendons and ligaments and surgeons spent about five hours repairing it.
"It was a freak accident. I can just remember him losing his footing and us crashing to my right and going through the glass." He said he did not feel pain, nor did he realise the seriousness of his injuries.
"As soon as it happened everyone just mobilised and did what they had to do to help me. It was more shock. When it happened a friend put my left arm into a tourniquet and another friend covered my arm.
"My nerves were severed so I didn't even realise how bad it was until I looked down and saw how much I was bleeding. I took a sneak peek at how the cut was and I could see the bone."
Mr Tiang was rushed to Middlemore Hospital for emergency attention. He is now recovering at his Parnell home. When asked how much movement he had in his left hand and arm, he said: "None at all".
"In terms of my left hand it's fully immobilised. The cast has to come off in the middle of January and we'll take it from there in terms of whether more surgery needs to be done. But it's most likely going to be a lot of rehab.
"They've said full feeling returning to my left arm won't be known for 18-24 months. But the fact that I can move my thumb now is a pretty good indication. And I can feel sensation when they touch my fingers."
Mr Tiang was hoping to have function in his right hand back early next month.
He said he felt lucky as his injuries "could have been worse".
"Who knows what could have happened if I fell a different way. My injuries could have resulted in me losing my arm, or getting glass through my neck."
He said others going to parties over Christmas and New Year should be careful and remember how easily accidents like his could happen.
"Have fun but just be sensible and be smart, but still have fun."
Mr Tiang said he had a couple of drinks the night of the accident, but that did not contribute to what happened.
Meanwhile, hospitals are bracing themselves for Christmas revelry-related injuries. Extra staff are rostered on New Year's Day at Middlemore which is usually the busiest day.