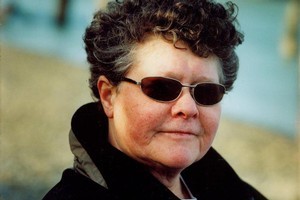 Booker Prize-winning author Keri Hulme will leave her West Coast home of almost 40 years, saying it has become a "nasty McMansion village".
Her novel The Bone People won the international Booker award in 1985.
Okarito, a former goldmining village on the coast near Franz Josef Glacier, has been her home since the early 1970s, when she won a Crown land ballot and built her own home in an octagonal design.
Writing in the Ngai Tahu magazine Te Karaka, the reclusive author said only a handful of people lived at Okarito when she arrived - a family of six who left within two years, and "an alcoholic".
She said she could no longer afford to live there, while firing broadsides at the changing nature of the place.
"We have people who fly in, planes, helicopters, to their very ugly McMansions," she wrote.
"Little by little a lot has been eroded: most of the places (can't call them homes) have been holiday places, in an area where very few people take holidays."
Local body rates made living there impossible, Hulme said.
She still "loved the place and the birds" but the truly loving people had gone away.
Okarito residents were upset by the comments.
Ms Hulme told the Greymouth Star yesterday that she planned to shift to Otago.
The bluff and lagoon at Okarito had "permeated her" but it was time to move on.
Hulme was born in Christchurch, the daughter of a carpenter and a credit manager, and the eldest of six children.
When she first arrived on the West Coast she worked briefly as a postie in Greymouth and at one stage as a proofreader for the Greymouth Star.
Her eagerly awaited twinned novels Bait and On the Shadow Side, on which she has been working for a number of years, are still in the pipeline.
The Bone People was not only New Zealand's first Booker Prize, it was the first time a first novel had won.
It fell off the New Zealand bestseller list in January 1986, not for lack of interest but because the publishers had run out of copies. It has now sold more than a million copies and been translated into nine languages.
The Bone People was followed by a collection of poems, Lost Possessions, and a collection of short stories Te Kaihau: The Windeater.
Okarito Community Association chairwoman Raewyn McLennan, who lives just up the road from the village's most famous resident, said quite a few of the houses today were holiday homes. The permanent population was about 35.
Located 20 minutes' drive from Franz Josef Glacier to the south, she said Okarito was made up of a "wide range of people from varied backgrounds".
Westland District Council rates for a large section there - more than the traditional quarter acre - are generally under $1000 a year.
Mrs McLennan had heard the author planned to leave and said they had been "quite privileged" to have her in the community.
- GREYMOUTH STAR