This Christmas, the Herald is again featuring the charities selected to receive a $10,000 donation from Auckland Airport. The $120,000 to be distributed came from change donated by air travellers this year.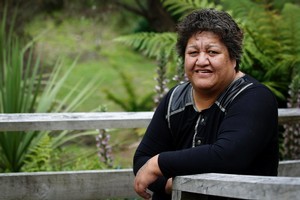 A much-needed playground will be built for children whose families have been torn apart because of domestic violence.
Te Whakaruruhau is a Maori women's refuge in Hamilton that has helped thousands of women over the past 25 years.
It is one of 12 charities being given $10,000 each from Auckland Airport this year, as part of the 12 Days of Christmas initiative.
The money will go towards building play areas and a large playground for children who live at four safe houses run by the refuge.
Service manager Ruahine Albert said the playground was very much needed, particularly for those children who could not go out in public because of their family circumstances.
"Our women and children come here because they need help. Some of them need to be in safe houses to be kept safe from their abusive partners.
"Some children have to be escorted to and from school and when they get home, they can't leave the premises," Miss Albert said.
"You can imagine how hard it is for these kids already. But here, they have nothing to do.
"We want to build a playground for them to take their minds off things and for mum to have some time to herself."
Up to 600 children enter safe houses at the refuge each year.
The money will also go towards building separate play areas for toddlers and younger children, while a playground will be built for the older children.
Miss Albert said staff as well as those families now at the refuge were excited and grateful for the $10,000 they will get.
"Their generosity is heart-warming. Thank you for even considering us."
Auckland Airport general manager corporate affairs Charles Spillane said they were happy to be providing the grant to such a worthy cause.
"Te Whakaruruhau dedicates its time to helping a large number of women and children every year," Mr Spillane said.
"We are delighted to be able to provide a new playground for all the children to enjoy."
* Contact Te Whakaruruhau Maori women's refuge