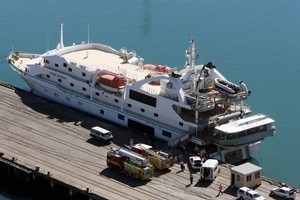 Transport investigators have made a raft of recommendations after a man was crushed to death in a ship's watertight doorway.
The chief engineer of the the Australian-registered passenger ship Oceanic Discoverer died in hospital after he was crushed during a fire drill while the ship was docked in Napier in February 2009.
Part of the drill involved closing and testing the ship's hydraulically operated watertight doors, which had been shut remotely from the bridge.
Shortly afterwards, the chief engineer opened the door to the engine room and became trapped in it as he passed through the doorway.
He was crushed for more than eight minutes before he was found.
The crew had to dismantle the door handle and hydraulic mechanism to free him.
The man was resuscitated but never regained consciousness and died later in hospital.
A Transport Accident Investigation Commission inquiry found the watertight doors were normally set to local control mode, which meant they would not automatically close after someone walked through, but at the time of the accident the doors were set to remote control mode.
The ship's crew routinely passed through the doors without fully opening them, which the engineer may have done at the time of the accident.
Investigators found the door had been set to close at twice the allowable closing speed, and an audible alarm that warned the door was closing, may not have been working.
The watertight doors did not comply with the minimum international requirements, and the ship's safety management system did not ensure they were properly maintained.
The report recommended Maritime New Zealand raise the issue of watertight door safety with the International Maritime Organisation, and recommended Australian authorities address issues with the safety management system on board the ship.
It also recommended the manufacturer address possible design issues with the doors.
The report said crews should always ensure watertight doors were fully open before passing through, and doors should never be set to close faster than the maximum allowable speed.
It said legislation governing the design and use of watertight doors should be flexible enough to achieve appropriate procedures for the use of any watertight door in any mode.
The report noted poorly maintained watertight doors were dangerous, and said maintenance systems should be designed and followed to ensure they were maintained in accordance with manufacturers' instructions.
- APNZ