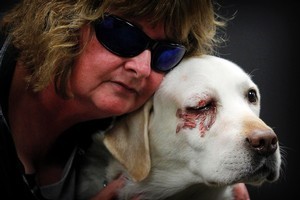 The owner of a seeing-eye dog that was mauled by a pitbull-cross at a Hamilton shopping centre says her pet is now in retirement and the attack has left her so scarred that she probably won't ever return to New Zealand.
Anne Ferguson, an Australian academic, had been in Hamilton presenting a paper at the University of Waikato in July and was enjoying some time off at The Base when the pitbull-cross attacked her dog, Perry.
The golden Labrador, which had been Ms Ferguson's helper for more than six years, copped a mauling as she froze, unable to assist.
Yesterday, Leeane Mita, the owner of the pitbull-cross, appeared in the Hamilton District Court for sentencing over the incident. She was ordered to pay $1000 in reparation to Ms Ferguson for emotional harm and trauma it caused.
Speaking from the Gold Coast, a surprised Ms Ferguson said the sum was "a lot more than I was expecting".
"But I think a stronger message could have been sent out even if she had to do community service with dogs. That would have been some sort of recognition of the role that these dogs play."
The court had earlier heard how Mita's son and Ms Ferguson's husband were both bitten as they tried to free Perry. The dog was taken to a Hamilton vet suffering lacerations to his right eye, his head, neck and inside his mouth.
Ms Ferguson said the attack had scarred her so that she was unlikely ever to return to New Zealand.
"The people were nice but the memories are still too traumatic."
Perry, too, has been traumatised and cowers at the sight of other dogs when he goes for walks.
And despite efforts to rehabilitate him, he was retired from his duties about two months ago.
Mita's lawyer, Angela Smith, said Seeing Eye Dogs Australia had sought A$30,000 ($39,000) reparation - the cost for breeding and training seeing-eye dogs over two years.
But she said her client was unemployed and unable to meet the costs and the organisation would have to pursue the matter through a civil action.
Ms Ferguson said she supported the idea of Mita paying some kind of reparation to Seeing Eye Dogs Australia.
"He [Perry] would be retired eventually ... but the idea that he had to be overturned because another person had been negligent in their actions and the care they should have taken. I think it would have sent a strong message to community."
Community magistrate Kathy Wilson said Mita was very remorseful for what had happened and pleaded guilty at the earliest opportunity but she said unleashed, unrestrained and unregistered dogs in public places would not be tolerated.
The head of guide dog and rehabilitation services for the Royal New Zealand Foundation of the Blind, Paul Metcalf, said attacks against its guide dogs were rare.
"Having said that, the growing number of stray dogs on the street is a concern for our guide dog handlers."
Ms Ferguson is now getting used to life with a new seeing eye dog, a 2-year-old black Labrador called Wendy.
Wendy has responded well to Ms Ferguson's old friend Perry, whom they have taken into their home as a pet.
"He's a part of the family."