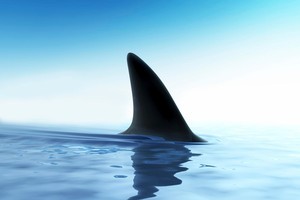 A section of Papamoa Beach was cleared yesterday when a 2m shark swam within metres of a group of people fishing on the shoreline.
Police and lifeguards were alerted to the sighting and about 20 people line-fishing at the spot were urged to stay away.
The shark, thought to be a bronze whaler, came within 10m of the shore on the eastern side of the Bay of Plenty beach about 10.15am.
Papamoa Surf Life Saving regional guard patrol captain Shaun Smith said there had been several shark sightings this week but the beach remained open.
He said the beach would be shut if the sharks began circling or swimming towards the flags, or if the water was packed.
"But a lot of the time you don't see it until the last minute. It's deemed to be dangerous if there's a lot of people in the water and we want to get them out of the flagged area because he might be turning around and swimming around."
Only about 10 people were swimming between the flags at Papamoa when the shark was spotted yesterday.
Lifeguards were not allowed to enter the water to chase off the sharks, Mr Smith said.
"Ninety-nine per cent of the time they are just swimming along the beach, but we do get people out if there's lots of them."
Mr Smith said there had never been a shark attack at Papamoa Beach.