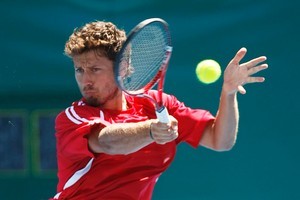 There is an "as expected" look to the finals of the New Zealand tennis championships - with one exception.
And that player, Leanne Baker, happens to have won the tournament more times than anyone else.
She is now within a match of being women's champion for the eighth time.
Fourth seed Baker beat a teenager almost half her age, Emily Fanning, to make the final.
Quick to point out she isn't 31 until early next month, Baker dismantled 16-year-old Fanning, New Zealand's top junior, in under an hour 6-1 6-0, but knows the task will be more difficult when she takes on top seed and world No 231 Sacha Jones in tonight's final at the Albany Tennis Centre.
"It will be different to not play a teenager," Chicago-based Baker said.
"Sacha is in a different category really, she's got a WTA ranking and is hitting pretty well."
Although she won easily, the left-handed Baker, who was ranked inside the world's top 100 in doubles and made the doubles final of the ASB Classic, believes Fanning is a much better player than the scoreline suggested, and thinks her quarter-final opponent, 14-year-old Paige Hourigan from Wanganui, has potential.
"It's just experience for the juniors, and I've got it," said Baker, who wasn't too sure how many times she'd won the tournament's singles and doubles title.
"Paige has got some good shots for someone so young, while Emily can play a lot better, but I'm not the sort of players they are used to coming up against."
While she was at it Baker combined with Kairangi Vano to win her 12th doubles title at the tournament, beating Fanning and Kate Parker 6-4 6-3.
The other women's semifinal was also a quickfire affair.
Jones took apart Tauranga's Heidi Stewart, the seventh seed, 6-0 6-1 in an hour.
After a year of injury and not quite being able to achieve the results she wanted on the WTA Tour Jones has been using the tournament to work on her game and can take some consolation in the title if she wins tonight.
The men's final will have top seed Artem Sitak take on second seed and fellow Kiwi Davis Cup player Rubin Statham.
Sitak, the world No 436, beat the upset player of the event, Ben McLachlan, in convincing fashion, 6-1 6-1, in just over an hour, while Statham, at No 534, had to battle hard to defeat former top New Zealand player Dan King-Turner 6-4 7-6 (8) in over two hours.
The contest will be intriguing for Davis Cup captain Marcel Vos as he looks ahead to the Davis Cup tie in Tauranga in February against Uzbekistan, plus there's the traditional bragging rights between Kiwi players.
"It's been an interesting tournament to see the college players from the US come back and push or beat the top guys," Vos said.
"In the final I'm expecting a close match ... it should be good to watch."
The women's final starts at 6pm followed by the men's singles decider.