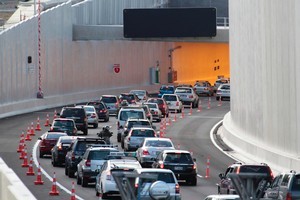 The road toll this year is set to be the lowest in more than 50 years following a dramatic drop police have attributed to changing driver attitudes.
With only 10 days left in the year, the official toll stands at 269 _ some 99 lower than last year.
Police said most New Zealand drivers had taken to heart messages around speed, drink driving and safety belts.
There was a real difference in behaviour on the roads, with average speeds down and traffic noticeably calmer.
"Police appreciate that the majority of drivers do stick to the speed limit, and drive to the conditions,'' national road policing manager Superintendent Paula Rose said.
"The majority wear safety belts, never drink-drive and are courteous, considerate and safe.''
But Ms Rose warned that between now and the end of the year, there would be more people partying, travelling and celebrating.
Police would be more visible over the holiday period and would "relentlessly breath test all drivers, whatever the time of day''.
"We will also be stopping any driver we detect driving more than 4km/h over the speed limit during the official holiday period.
"We know that just being out there and engaging with our communities provides a powerful deterrent to those who may not be taking their safety and that of other road users seriously.''
Ms Rose said holiday driving required extra care and patience and the majority of drivers were well aware of this.
That included allowing plenty of time for journeys, taking regular breaks, and ensuring everyone was buckled in.
"We don't know all the factors behind what is driving the reduction in the road toll but we do know that police visibility and action plays an important part. Our actions are saving people's lives.''
- APNZ