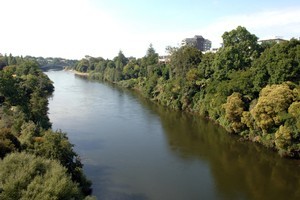 Diesel has spilled into the Waikato River for the third time in as many months and authorities are appealing for help from the public to find where it came from.
Yesterday afternoon several hundred litres entered the river through the stormwater system, which discharges into the river near the St Andrews Golf Course.
The Waikato Regional Council's response team tried to contain the spill, but could not deploy absorbent booms because of the high water levels and so the diesel was swept downstream.
The council has warned people who take water from the river for stock to take precautions to ensure the water is not tainted.
Compliance and education manager Rob Dragten said yesterday's river levels would help to dilute the spill and would therefore minimise any potential environmental damage that it might have caused.
"While diesel has a distinctive, unpleasant odour and leaves visible rainbow sheening on the surface of the water, it generally evaporates reasonably easily and is expected to be gone quite quickly," Mr Dragten said. "But it's important we locate where this diesel is coming from so we can take any necessary action to prevent further spills."
In September, about 500 litres of diesel flowed into the Waikato River through two spills in the space of a week.
The council did not know whether the September spills were an accident or deliberate, but Mr Dragten said at the time it was unlikely to be deliberate given the high cost of diesel.
Inquiries into the two previous spills failed to identify the source and so the council has asked for the public's help to find the culprit so it does not happen again.
"There's likely to be members of the community who will know where this diesel has come from and we'd be keen to hear from them," Mr Dragten said.
Anyone with information should phone 0800 800 401.