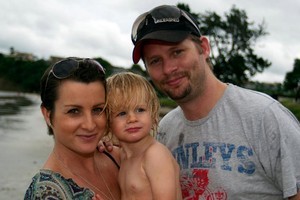 A brave mother given two months to live after cancer spread through her body has died before she could fulfil her last ambitions.
Natalie Murphy was trying to cram a lifetime into a few weeks. She had even planned to renew her vows with Greg, her husband of 10 years, on New Year's Day.
But the 35-year-old's death yesterday afternoon - after she took a sudden turn for the worse - has dashed that and other dreams.
Mr Murphy said the day he had been dreading had finally arrived.
"I had to say goodbye to the love of my life, the mother of our awesome son, Jackson. My darling wife went in peace surrounded by the people she loved most.
"On behalf of our family, I'd like to say a very sincere thank-you for the overwhelming support we have received. Your generosity and kindness has been just amazing."
Mrs Murphy's parents, Alasdair and Denyse Swan, shared their son-in-law's sentiments. "She was such a strong, courageous and brave young lady, who just wanted to help people. She has a strong, loving family that will be close to her forever, and there will never be a day that goes by that we won't love her or forget her," they said.
"A very special girl has been taken away far too soon, to a better place - someone up there better be looking after her."
Ten days ago, the Herald described how Mrs Murphy was facing her future with courage and a sense of reality.
She started fundraising for her funeral, because she wanted her husband - and son - to focus on grieving rather than worrying about how much it would cost.
And she shared with Herald readers her dreams: She wanted to pick strawberries with Jackson, take Greg on a helicopter ride, spend a week at Omaha with her family and have high-tea with her mother at the Langham.
She also planned a beautiful ceremony to renew her wedding vows with Greg.
This was to have happened in March, on their 10th anniversary.
But at the start of this month, Mrs Murphy was told she would be lucky to survive beyond January. So they brought the date forward to New Year's Day.
She hoped to be well enough to walk down the aisle and dance with her husband.
Mrs Murphy was not given the opportunity to cross any of these things off her bucket list. In the end, the cancer overwhelmed her.
The Mairangi Bay woman first discovered her health problems the day before Jackson was born. She found a lump in her breast, and five months later was told it was cancer.
Just before she went into surgery to have the 4cm lump removed, her surgeon told her the cancer had spread to her spine and liver. She was initially given two to five years to live.
After publishing her story, the Herald was flooded with more than 200 messages of support and offers of donations towards her funeral.
Mrs Murphy said she had let go of any anger or resentment towards her deadline and looked on it as an opportunity to help others.
"Something in me has always said, 'This is your purpose'. There was something about me and the decision that I've made through this process was that I was going to help other people. So that's what I've done."
Mrs Murphy started a website to inspire others. She wrote: "Thousands and thousands of people have written to me and have told me that I've had a positive effect on their lives."
To the Herald, she had said: "My friendships have become richer and my life has become richer and my family has become closer and my marriage has become stronger and my belief system is better. I like myself more.
"There's just so many amazing things that have come out of this journey that it's really quite weird to say I'm facing my mortality and I can honestly tell you I feel like the luckiest woman in the world."