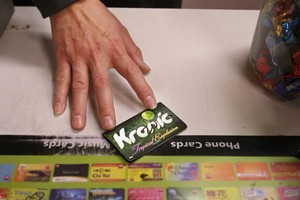 Use of Kronic and other synthetic cannabis products appears to have been stubbed out.
The number of calls to the National Poisons Centre in Dunedin about the drugs has plummeted to almost zero.
Calls about products such as Kronic peaked in June at 16.
But after the Government banned them in mid-August, that number dropped to just one in September.
There have been no calls about synthetic cannabis since October.
Dr Leo Schep, a toxicologist at the centre, was surprised the calls stopped so quickly after the ban removed Kronic and other products from stores around the country.
"I think it reflects what's going on out there ... It does indicate to us that there's been a drop-off in demand.
"And that also relates to talking with [hospital emergency department] staff around the country - they're not seeing the numbers any more."
In June, Auckland City Hospital's emergency department reported it often treated one or two users of synthetic cannabis a day.
Most of the patients were aged between 16 and 21.
Dr Tim Parke, clinical director of the adult emergency department at the hospital, said there was no data available on whether the number of patients had dropped since the August ban.
"But, anecdotally, we are probably treating fewer synthetic cannabis users."
Dr Schep said although synthetic cannabis products had been available for years, increased media attention and sales had led to a jump in calls to the centre about the drugs.