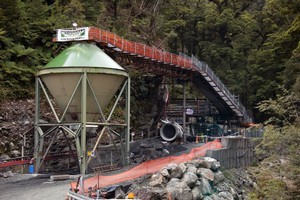 Queensland's chief inspector of mines will take up a temporary role at the Department of Labour as it struggles to find someone to fill the New Zealand role permanently.
West Coast-Tasman MP Damien O'Connor said today that the department had "failed'' to appoint a senior inspector to the new High Hazards Unit, which is being set up partly as a result of the Pike River Mine tragedy.
It was revealed during the Pike River Royal Commission of Inquiry hearings in Greymouth three weeks ago that the department's then sole mining inspector did not look at the mining company's "near miss'' log books, or know that gas levels were soaring inside the tunnel just a month before the explosion that killed 29 men in November 19.
In 2009, the department carried out only one underground inspection. Its overworked staff asked for help but their request did not reach the top.
Mr O'Connor today raised concerns about the new hazards unit, alleging that the job description did not require applicants to have underground mining experience.
There are also concerns salaries must at least match that of a senior miner - up to $90,000 a year.
High Hazards Unit general manager Brett Murray said Queensland's chief inspector of mines Gavin Taylor had been appointed the acting chief mines inspector while recruitment for a fulltime chief inspector continued.
Mr Taylor begins work on January 16.
"We are determined that this role should be filled by the right candidate with the right mix of skills and we will not appoint until we find that person,'' Mr Murray said.
"The market for such skilled leaders is small, and we are offering internationally competitive rates for the role.''
The three inspector roles had been filled by Michael Firmin, the current mining inspector, an experienced mining specialist who held a first-class mine manager's certificate, and one of the department's "most experienced'' health and safety inspectors, who was also its lead investigator into the Pike River disaster, Mr Murray said.
Mr O'Connor said the Labour Department had to "pay decent money to people who can get out and implement safety in the mines, rather than rewarding the paper pushers in Wellington who have been unsuccessful in protecting mine workers''.
Underground mine safety was "still plagued by a culture of risk'' and he said the hazards unit needed to be operating "now, not later''.
Until recently, Mr Firmin was the sole inspector of mines left in New Zealand, responsible for about 1000 quarries around New Zealand, 20 coal mines in the South Island and several in the North Island.
Further changes are expected when the Royal Commission of Inquiry delivers its findings next year.
As recently as 1998, there were seven specialist coal mine inspectors in New Zealand, but the inspectorate was dismantled by a previous National government.
The Australian, and in particular Queensland, mining inspectorate system has been praised during the Pike River commission hearings. Mr Taylor has temporarily closed mines in Australia amid safety concerns, something the New Zealand authorities have been reluctant or unable to do in recent years.
The Department of Labour was told of Mr O'Connor's allegations this morning, and said it did not have time to respond in full.
- APNZ