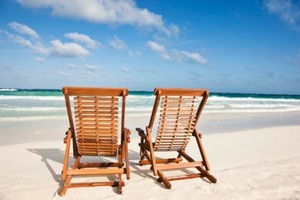 Last week's rain which put the brakes on summer and brought chaos to some regions will be replaced by a spell of mostly fine weather that should last through to Christmas.
The forecast is welcome news for residents of the Nelson and Tasman regions as they assess the damage from the heaviest rainfall in 40 years.
Landslips have made roads in and out of Golden Bay impassable and yesterday about 30 homes above a slip on Nelson's major arterial road were evacuated.
A further inspection revealed cracks in the area surrounding a slip on Rocks Rd, which remains closed.
Meanwhile, the low responsible for the Nelson chaos finally crossed the North Island during the weekend bringing heavy rain and causing temperatures to plummet.
At 2.30pm yesterday, usually the warmest part of the day, Auckland struggled to a chilly 14C while Hamilton managed only 13C.
Weatherwatch.co.nz said the temperatures were incredibly low and several degrees below the December average. Some parts of central Hawkes Bay failed to climb above 11C.
The wet weather kept emergency services busy across the country, with one car going out of control in the slippery conditions and flipping onto its roof in the Auckland Domain yesterday.
Off the Taranaki coast, a rescue helicopter winched three men to safety after they abandoned their fishing vessel in rough seas yesterday morning.
In Nelson, initial inspections have been completed on nearly all of about 300 homes damaged by slips and some are likely to be demolished.
A civil emergency declared on Wednesday night is likely to remain in place all week as authorities work to assess the danger posed by more than 300 slips.
Civil Defence controller Alec Louverdis said two slips on the Maitai Pipeline, which provides Nelson with its water, were identified as a "big concern" yesterday.
Mr Louverdis said work was being carried out bearing in mind that forecasts showed rain could arrive later in the week.
Nelson Mayor Aldo Miccio said the council would do everything possible to ensure people were back in their homes by Christmas.
"It's never a good time for these things to happen, but being so close to Christmas ... It might not be an achievable goal, but it's a worthy goal."
Mr Miccio said Golden Bay had received almost double its largest dump of rain in recorded history.
"It was a massive event and sure, when the land's moving and slips are happening and you've got your homes there and dirt starts coming in through the back doors ... You couldn't imagine anything more frightening and we were so lucky we didn't lose any lives."
A ban on swimming and shellfish gathering is in place on Tahunanui Beach, all beaches on Rabbit Island and Rough Island, Ligar Bay, Pohara Beach, Motueka and Tata Beach.
But Mr Miccio was hopeful the ban would soon be lifted and the region would remain a draw for holidaymakers over summer.
MetService forecaster Allister Gorman said the low that contributed to the rainfall in Nelson moved to the east of the country yesterday.
"Essentially by later [today] things should have cleared up and be pretty much back to fine, dry weather," he said.
"And once we're there, it looks for the moment like we should stay pretty much with those sorts of conditions through the rest of the week."additional reporting APNZ