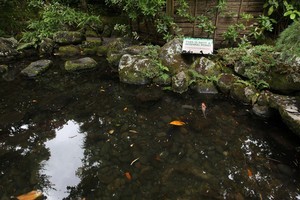 Do not feed the animals - and don't throw coins at them either.
Auckland Zoo is warning visitors off after a spate of vandalism - apparently caused by thieves attracted to coins people throw into its koi carp pond. The coin tossers may be throwing the cash for luck, but it's brought nothing but bad news to the zoo recently.
Spokeswoman Grace Honney said there had been problems in the Japanese garden in the past month.
"We have had people come into the zoo and move things around in the garden, messing up the grass, disturbing rocks and throwing things into the pond. We think they are attracted to the coins people throw into the pond," she said.
Management decided to put up a sign to discourage visitors from throwing money. Security guards were paying attention to the area.
Honney said it was mostly tourists who threw money into the pond.
"I think it is people from overseas but when people see coins in there they think it's good luck to throw some in too. We've put up the sign to ask people not to do that so we hope it will stop our gardens being hurt by vandals. It's pretty peaceful there and we want to keep it that way," she said.
The coins amounted to a few dollars, nothing compared to the €3000 ($5173.91) thrown into Rome's Trevi Fountain each day.