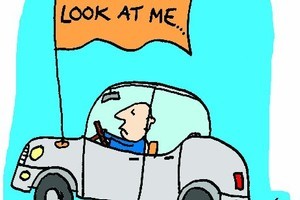 National Party president Peter Goodfellow has been labelled pretentious for flying the New Zealand flag from the bonnet of his ex-ministerial BMW - the prerogative of the Governor-General or the Queen when she visits.
Goodfellow's company S.H. Lock bought one of the ministerial BMWs for less than $65,000 at auction recently.
He put up All Blacks and New Zealand flags during the Rugby World Cup and has kept the nation's flag flying from the front fenders.
Whale Oil blogger Cameron Slater accused Goodfellow of pretending to be more important than a party president. "It's pretentious, it is something generally reserved for ministers, overseas dignitary and the Governor-General, and it's almost cheap as well because he has bought a second-hand BMW and is pretending to be a minister," Slater said. "Why doesn't he just stand for Parliament?"
Goodfellow said the criticism was ridiculous. "Lots of people have them on their cars."
The Ministry for Culture and Heritage says the flag is usually flown from cars carrying a minister, a NZ ambassador overseas and the chief of defence.