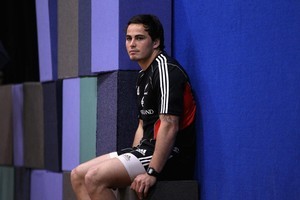 It's a measure of how far out of touch the New Zealand Rugby Union is that it could announce the four-game suspension of trouble-prone winger Zac Guildford with what seemed to be a corporate straight face.
Guildford was handed the suspension this week for a drunken rampage in the Cook Islands in November in which he burst into a popular bar, naked and bleeding, and assaulted two of the patrons.
It was the fourth time in 18 months that he had engaged in an inappropriate alcohol-fuelled act.
The NZRU's general manager of professional rugby, Neil Sorensen, tried to make the sanction sound serious. "Taking players out of rugby is not something we do lightly," he said, adding the almost comically mild observation that "with regard to alcohol-related behaviour, Zac does not have an exemplary record".
But three of the four games concerned are pre-season fixtures - only one is a Super 15 match.
As punishments go, it puts one in mind of an assault with the proverbial wet bus ticket. There's no significant financial penalty, other than $4000 in foregone income.
The local newspaper editor in Rarotonga suggested that Guildford might head back there to apologise and do some community work to make amends but no one seemed to see any merit in such old-fashioned courtesy.
The leniency displayed by the top brass at NZRU HQ suggests that they see a lot of promise in Guildford. Certainly if Sorenson is working on a "three strikes and you're out" policy, he has a bit of trouble counting.
Subjecting the young man to more pain and humiliation than he has already visited on himself is not the point of the exercise, of course. But the Rugby Union's ambivalent and equivocal reaction points out the problematic relationship it has with alcohol.
It doesn't help when one of your major sponsors is a big brewer. The alcohol industry has always had deep pockets because sponsorship counters the bad publicity caused by the association of their products with violent assaults and carnage on the roads. And associating themselves with sporting heroes gives them the chance to cultivate an image of youthful vigour and to reach their target audience when it's happy.
Little wonder that rugby union spokesmen like Sorenson use such anodyne phrases as "alcohol-related behaviour". Terminology such as "binge-drinking" and "alcohol abuse" tend to take the lustre off the carefully burnished image that spin doctors like to impart.
Rugby - and indeed most of the male sporting codes - seem to regard alcohol abuse as a fact of life. The Breakers' Corey Webster was sacked for failing a drugs test - he had traces of an otherwise legal high available in dairies; meanwhile his basketball teammate BJ Anthony's second drink-driving offence seems to have been regarded by team management as a matter for the courts.
Likewise, the Rugby Union seems to regard what went on with Guildford as primarily an employment matter. The same attitude seems to have applied to the boozy tribulations of Cory Jane, Jimmy Cowan, Norm Hewitt and others. Until Guildford's suspension, a bit of finger-wagging behind closed doors followed by a tearful press conference in which a lot of people were mentioned as having been let down seemed to be about the size of it.
Unwilling though we are to acknowledge it, our society is saturated by alcohol. The flood of recent bad news notwithstanding, the current crop of All Blacks is probably the most disciplined in terms of drinking for some time. But that owes much to several of the senior players.
In particular captain Richie McCaw established and enforced a culture of abstention during preparations for matches and players - like his opponents - know that it's not a good idea to get on the wrong side of Richie. Post-match celebrations, however, too often turn into the kind of binge-drinking that is lamentably common in society at large.
The announcement on Friday of the appointment of Steve Hansen as the new All Black coach prompts us to look forward as far as 2015 and the possibility of an unprecedented defence of the Rugby World Cup. But at the same time, it is to be hoped that some searching scrutiny is being applied to rugby's battle with the bottle.
It is simply not enough to represent it as the waywardness of indisciplined youth. Young players coming up through the ranks are products of our drinking culture and victims of it as well. The union, not just as an employer of some vulnerable and troubled young men, but as stewards of members of a celebrity culture, owes it to the players and the public to take a firmer grasp of the matter.