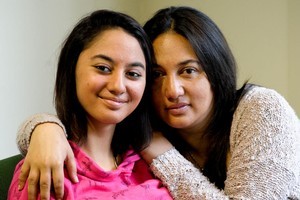 Tamiana Martin-Heke's world came crashing down when she was hit by a bus. The outgoing and sporty 14-year-old became a shadow of herself.
But thanks to the Northland schoolgirl's determination, a devoted mum and intensive rehabilitation therapy at the Wilson Centre on Auckland's North Shore, the Kaitaia teen is recovering well.
The accident happened as Taimania was walking along Pukepoto Rd towards Kaitaia College on October 31, chatting to friends and listening to music on a shared pair of headphones.
She was flown to Starship Hospital in a critical condition and was in a coma for the first two weeks. She had a broken collar bone, broken hip, damaged liver, injured foot, numbness down one side of her body and a head injury. Last week, she realised she was also blind in her left eye.
Police are still investigating and no charges have been laid.
Taimania's mother, Melz Martin-Matthews, was horrified when she saw her daughter in Starship. "I wouldn't wish that on anyone," she said.
Martin-Matthews has been by her daughter's side since the accident and has seen each small breakthrough in her recovery.
"When she started coming around she was incoherent. She wasn't all there. Her first word was 'Mama'."
Taimania said she couldn't remember the accident. "I was hit by a bus and I flew across the road," she said. But she admitted she knew that only because people had told her so.
Since being transferred from Starship to the Wilson Centre, Taimania has spent two hours a day having physical and occupational therapy and getting plenty of rest. By February she will probably move with her mum to Whangarei where there are more specialist services than Kaitaia.
The family - Martin-Matthews has three other children - will celebrate Christmas at the Wilson Centre where family will visit.