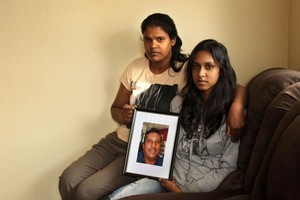 A year has passed without justice for Vineshwar Singh or answers for his family.
The Pukekohe man was struck down as he crossed the road in front of his home just before midnight on Christmas Eve last year.
Christmas should be a happy time for youngsters, but his children will be remembering the anniversary of their father's death.
His family this week renewed an appeal for information or for the driver to come forward.
The car did not stop. Witnesses said the driver was speeding and did not even slow down after hitting Vineshwar.
Singh, 40, left behind two children - Sonam, 17, and Michael, 13, who are preparing to spend another Christmas without their father.
Last year, their father had planned to cook them duck for dinner. This year they have no plans for the day, only to spend time with each other. His daughter, Sonam, said it had been a hard year and finding answers would help bring closure for the family.
"It would be a good thing [to know]. I just want to move on," she said.
She was still in school in Pukekohe, going into her last year after a summer holiday working with her mother packing for the Wilcox family, who've grown veges in Pukekohe since the 1930s. Next year she would focus on her studies and decide what career path to take. Her father would have been supportive no matter what she decided to do, she said.
Instead of celebrating on New Year's Eve last year, the family gathered to scatter his ashes on a Manurewa beach.
Vineshwar's wife, Kirin, said the police had a description of the car but had never identified the driver. She was home at the time and saw her husband lying on the road before emergency services arrived.
She still found it too difficult to talk about the incident, which had a devastating effect on the family in New Zealand, Australia and Fiji. She said she and the children had moved to another house a month after her husband's death. They were still struggling to come to terms with what happened.
"It is very hard for us. The children miss their father. He was a good man," she said.
Their new house, only a few blocks from the old one, is a nice bungalow with well-kept gardens. The family have decorated the lounge with photographs of Vineshwar, including one of the happy couple when they first met.
Brother-in-law Anand Kumar said Vineshwar was a friendly man who would help anyone. A panelbeater, he had moved to New Zealand from Fiji about 16 years ago.
Vineshwar's nephew, Sharneet Singh, created a Facebook page in an attempt to find the driver but it had not turned up any leads. Detective Senior Sergeant Wayne Lendrum said there were a number of witnesses to the crash, most of whom described a white car, possibly a Nissan Skyline.
He appealed for the driver, any passengers or anyone knowing anything about the crash to contact police. Someone might have noticed a car matching the description having damage to its front left side on Christmas Day.
Anyone with information can contact the Papakura police on (09) 295 0200.