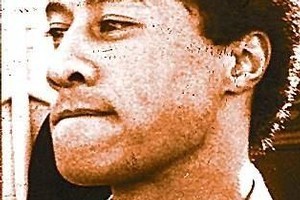 Mass murderer Raymond Ratima has been declined parole.
In 1992, Ratima knifed and bludgeoned to death his pregnant sister-in-law Nicola Ferguson, 20, her partner Bevan Tepu, 21, their child Stephen, 3, Nicola's brother Phillip Ferguson Jnr, 14, and his own children Piripi, 7, Barney, 5 and Stacey 2.
Ratima, of Masterton, has served nearly 20 years in prison for the murders.
After carrying out the killings, he then lay in wait in his in-laws' darkened home for his wife Toni and her parents Phillip and Tubby Ferguson to return home, where he attacked his father-in-law with a softball bat.
But Mr Ferguson stood his ground and fought back as the others rushed to neighbours and police were alerted.
Ratima later pleaded guilty to seven murders, an attempted murder and the killing of an unborn child, and was sentenced to the then-mandatory life sentence.
Since then he has come up for parole several times, his bid for freedom each time been fiercely opposed by family of his victims.
In it decision released today, the Parole Baord said time had not diminished the "tremendous hurt and sense of loss'' suffered by Ratima's remaining victim and the families of the victims.
"We have received letters from and on behalf of some of them and we have met with a representative of others. Their message is consistent and clear. They oppose his release. In the absence of any evidence that he has completed further intensive rehabilitative programmes, changed his behaviour and thinking, and developed a real understanding of the impact of his crimes and empathy for his victims, they fear that if released he will carry out threats made at the time of sentencing and that a number of lives would be at risk.''
When these concerns were put to Ratima, he responded thoughtfully and eloquently and expressed deep remorse, the board said.
He acknowledged the inability of his victims, particularly the children, to develop their identity and personality or to achieve their potential.
The board said there were no concerns about Ratima's behaviour and he was described as being quiet, compliant and co-operative. He also enjoyed working in the organic garden.
He told the board that as he had acquired a minimum security classification, he hoped to spend a couple of years on release to work before seeking release on parole.
"Although these are both obvious and useful steps in any reintegration process we are not satisfied that Mr Ratima has reached the point where he can safely engage in either. In our view, he still has a considerable amount of work to get on with before he will be a suitable candidate for release.''
Prior to the current hearing Ratima met a department psychologist who was unable to comment on Ratima's level of insight into his violent offending and the clarity or otherwise of his thinking because he was not prepared to discuss his offending with the psychologist.
Parole, which Ratima had not sought, was declined but he would be seen again in the normal statutory cycle.
However, the board warned that "because the journey towards release must necessarily be taken slowly and carefully'' it would once again consider whether to make a postponement order of up to three years at the next hearing.
- APNZ