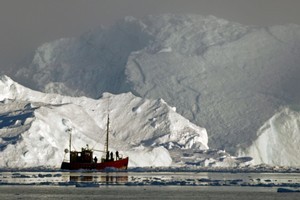 Rescuers are expected to take up to five days to a reach 32 people trapped on a Russian fishing vessel taking on water in the freezing Southern Ocean.
The 55m vessel Sparta issued a distress call at around 3am from its position next to an Antarctic ice shelf, in the Ross Sea.
It is sitting on a 13 degree list and is confirmed to be taking on water.
The New Zealand Rescue Coordination Centre this morning said all of the crew, made up of 15 Russians, 16 Indonesians and 1 Ukrainian, were safe.
They were pumping water out of the ship's holds and giving up weight by placing cargo on a nearby ice shelf.
But they faced a lengthy wait for rescue, with two fishing vessels still four to five days away from the stricken vessel, the centre said.
Rescue mission coordinator Ramon Davis said the crew were equipped to survive the freezing Antarctic conditions.
"We are working to find a way to speed the rescue up, but it is possible the crew will have a fairly long wait for rescue.
"We have confirmed the crew has immersion suits on board and other resources which will assist them to survive if they have to abandon the ship."
Sparta's sister ship, Chiyo Maru no. 3, is making its way towards the stricken vessel.
However it is about 290 nautical miles and has no ability to cut or break through sea ice.
Mr Davis said the centre was continuing to contact vessels in the Southern Ocean to see if they could help with the rescue.
An American search and rescue team based at the Antarctic research centre at McMurdo Station is preparing a Hercules aircraft to fly over Sparta.
The aircraft was being prepared for flight, and is due to take off later this morning.
The weather around the Sparta is currently calm and about 3 degrees centigrade.