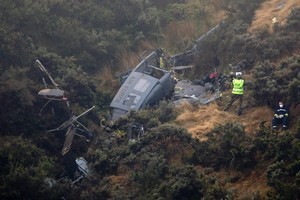 The crash of a Royal New Zealand Air Force (RNZAF) helicopter on Anzac Day last year which claimed three lives could have been avoided, the New Zealand Defence Force (NZDF) has admitted.
Pilot Flight Lieutenant Hayden Madsen, 33, co-pilot Flying Officer Daniel Gregory, 28, and crewman Corporal Ben Carson, 25, were killed in the crash. Sergeant Stevin Creeggan, 37, survived but suffered serious injuries.
The four were in "Black 2" - the second of three Iroquois helicopters flying in formation using night vision goggles from Ohakea to Wellington for an Anzac Day flypast.
They encountered bad weather at Paekakariki on the Kapiti Coast and changed formation, with the formation leader considering turning back.
However, soon after, at Brendan Beach in Pukerua Bay, Black 2 crashed, and Black 1 only narrowly avoided the same fate, said an NZDF court of inquiry report into the crash, released today.
Flight Lieutenant Madsen had a "relatively high" number of flight safety events from past flights but that was probably because he was proactive in reporting events "rather than a particular flight safety trend", the report said.
He and Flying Officer Daniel Gregory were to have been in Black 3 that day but were swapped to Black 2 due to their experience as it was considered a less difficult position.
Flight Lieutenant Madson was participating in a programme specifically developed for him to address "flying issues" but it had only just been implemented when the crash happened.
"In the opinion of the court of inquiry, both 3 Squadron and Flight Lieutenant Madsen share some responsibility for the management of Flight Lieutenant Madsen's flying recovery," the report said.
"No 3 Squadron reports identified Flight Lieutenant Madsen's issues but no lasting corrective action had been instigated."
The crash occurred as a result of a chain of events rather than from a single cause, it concluded.
They included the failure to comply with, and deficiencies in, NZDF orders, instructions and flying supervision procedures that resulted in the crew not being fully qualified, competent or current.
It also found:
* Royal New Zealand Air Force (RNZAF) had not effectively identified or mitigated the risk associated with night vision goggle operations;
* An operating culture in No 3 Squadron - of which the three crews were members - which led them to believe they were allowed to carry out tasks even if they were not suitably qualified, if they were "comfortable to do so" - something that increased the risk to the formation;
* RNZAF was not adequately preparing the crews for the situation they encountered;
* The crew of Black 2 lost situational awareness after entering an "inadvertent instrument meteorological" situation;
* Equipment was not optimised to give effective awareness of how close they were to terrain.
The court of inquiry made 10 recommendations to address the cause of the accident, eight of which were fully accepted by the RNZAF.
"Since the accident, there has been a major review of the command and control of NZDF flying operations resulting in significant organisational change," Chief of Air Force Air Vice-Marshall Peter Stockwell said.
"Specifically, the Air Force has reorganised command and control at Ohakea (Air Force base) by establishing a new high-level headquarters, No 488 Wing, to improve oversight and ensure safer flying practice.
"This includes a strong focus on standards and evaluation, and appropriate staff support to improve the supervision of flying activities."
Chief of Defence Lieutenant General Rhys Jones said the NZDF took full responsibility for the crash.
"This was an event which could have been avoided," he said.
"We do take it seriously. There is no cover-up."
He pledged to continue supporting the families of the men who died and said the release of the report was "another step in the closure of a very tragic event".

- APNZ