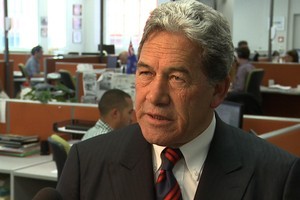 New Zealand First leader Winston Peters is now admitting he had an accident in a fall at his Auckland home shortly after the election despite after denying it last week when asked by the Herald.
He said yesterday he had been moving post-campaign material down a stairway "and I had an accident".
"That's what happens when you miss your footing when you're doing what you shouldn't be doing - carrying stuff that is too heavy," he told TV3 yesterday.
He injured his ribs in the fall and TV3 said he was treated in hospital.
When asked by the Herald last week if he had cracked his ribs in a fall at his home he said that was "bulldust".
The Herald asked him if he had injured himself in a fall on the polished floor of his home, rather than specifying a stairway, but Mr Peters gave the impression there was no truth to the story.
Mr Peters pointed to his appearance in a photograph in the Herald on December 1, taken at the Fight for Life press call on November 30 as evidence he was in good health.
Mr Peters had some episodes of poor health when he was Foreign Minister under the last Labour government.
He was taken to hospital with complications from a suspected spider bite in Malaysia, but continued to suffer from a mystery virus. He also had knee reconstruction surgery because of an old rugby injury.
Mr Peters was re-elected on November 26 with 6.59 per cent of the party vote and an entitlement to eight MPs.
He spent a term in the political wilderness after a political funding scandal and a damning privileges committee inquiry.
Mr Peters failed to declare a $100,000 donation made by businessman Owen Glenn to help towards his legal costs for the electoral petition he took against Bob Clarkson in Tauranga in 2005. Audrey Young