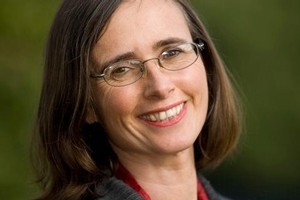 Mojo Mathers will be relying on the "far from ideal" solution of electronic note taking to follow proceedings in Parliament when she takes her place there next week as New Zealand's first profoundly deaf MP.
But Ms Mathers hopes a more advanced "cap relay" service providing near real time captioning for Parliamentary TV, which would also allow the other 700,000 hearing impaired New Zealanders to follow Parliament better, will be provided before long.
Ms Mathers became profoundly deaf after being starved of oxygen at birth, but has led an active public life as a candidate for the Greens in three elections.
Named for the song Got My Mojo Working by bluesman Muddy Waters, Ms Mathers became the Greens' 14th MP after special votes were counted last weekend.
Since arriving at Parliament for caucus meetings and induction, she has been in discussions with the Parliamentary Service and the Office of the Clerk about arrangements to allow her to participate fully in the House.
"In the short term, what's immediately available is electronic note taking," she told the Herald yesterday.
"It will not be ideal because there's a bit of a time delay and it's not verbatim."
That initial arrangement means Ms Mathers will have a screen showing Parliament TV, enabling her to lip read when the House is being addressed by an MP sitting behind her. At the same time she will receive a text feed on her iPad provided by a notetaker watching proceedings on a video feed.
"My goal is ultimately captioning, because that then becomes a service for all 700,000 hearing-impaired New Zealanders."
She said that could be achieved via a "cap relay" service which is an advanced form of the telephone relay service now available to enable the hearing and speech-impaired to use the telephone.
The current service allows hearing impaired users to receive the other side of a telephone conversation via text, typed out by a relay assistant who listens in.
Ms Mathers said that in a cap relay service, the relay assistant would speak the response into voice recognition software to convert it into text, giving a faster service and therefore an easier conversation.
At present insufficient people have signed up for the service for it to be set up in New Zealand. But Ms Mathers hopes that will happen soon, and that the same technology can be used to provide real time captions on Parliament TV.
Ms Mathers said she had encountered few problems during public meetings when she campaigned for the Greens as other candidates were usually experienced in public speaking "therefore articulate in a way that's easy for me to lip read.
At those meetings she was accompanied by a note taker who wrote down questions from the floor.