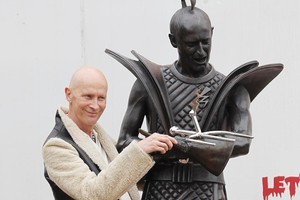 Don't be surprised if you're driving through the Bay of Plenty at about 11am and spot a bald-headed man dressed in a frock with heels and sipping a bloody mary from his balcony.
Richard O'Brien could also be belting out his favourite song, Super Heroes, from his Rocky Horror play as he rehearses for his show at The Founders Theatre next March to celebrate his 70th birthday and newly awarded citizenship.
He will also be slipping into those well-worn heels again.
After receiving New Zealand citizenship last night in Hamilton following a two-year campaign to allow him to bypass the age rules, the flamboyant and self-named "tran-dad" (granddad-of-one) said he now felt complete.
His brother and sister live in the Bay of Plenty, one of his sons Joshua in Wellington, and now he can call himself a Kiwi too.
"I always felt I was a Kiwi so it's nice to truly be one," the father of three said.
The musical maestro moved to New Zealand with his parents in 1952 and spent his teenage years and early 20s in Hamilton and Tauranga. But a one-year working holiday to the UK turned into 40 years.
He now splits his time between London and New Zealand but is hoping he will soon be living up to 10 months a year in New Zealand.
In between trying to turn Gilbert Sheldon's comic strip The Fabulous Furry Freak Brothers into a musical during his current visit, the flamboyant playwright plans to track down a lamington - something which he hasn't set eyes on since he was growing up in New Zealand.
He may also dabble into the political arena by trying to raise awareness of nice thick toilet paper.
"New Zealanders are sorely let down in the toilet paper department. New Zealanders want comfort and dignity ... we are being taken for a ride with toilet tissue."
Although he spends most his time in the Bay of Plenty, O'Brien specifically asked for the citizenship to be in Hamilton - the city in which a bronze statue of the Riff Raff creator has been standing on Victoria St since 2004.
It is in that very spot he spent hours watching horror and science fiction films at the Embassy Theatre.
O'Brien will be making an appearance at the opening of the Hamilton Gardens Arts Festival on February 17 where The Rocky Horror Show movie will be screening and a one off-show at Hamilton's Founders Theatre on March 17. Tickets are $40 and all proceeds will be donated to Starship children's hospital.
"Catch me while you can ... it may well be my last performance," he said.