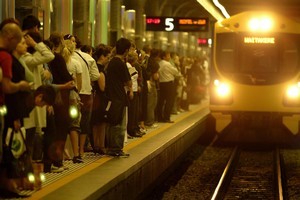 Passengers were evacuated and had to walk to the station after emergency stop button pushed
Auckland rail operator Veolia disclosed yesterday that it and the police are investigating reports of assaults on two of its staff during a fight on a train.
The fracas on Saturday night as trains were trying to carry large crowds home from the Christmas in the Park concert was separate to brawling around the Newmarket railway station after the event, where one person was stabbed and two others knocked out.
Veolia spokeswoman Brooke Donovan said the fight on the train took place at Mt Albert at about 11.30pm, and two other passenger services behind it were delayed while police were called to restore order.
But she said Veolia staff members and Maori wardens were also embroiled in the Newmarket disorder, which began in the station and moved outside to a public square.
Although they were shaken, they escaped without injuries.
Ms Donovan said the first of the two other trains delayed by the Mt Albert fight was disabled about 100m short of that suburb's station by the repeated pushing of emergency stop buttons.
The police had to help to evacuate about 400 passengers, who walked the rest of the way to the station.
A third train which left Britomart at 11.50pm was held at Morningside Station with its doors open while the incidents ahead were dealt with, and she confirmed a report from a teenage passenger that it did not reach Mt Albert until just before 2am.
The boy's father told the Herald he was reviewing whether family members should travel by rail for special events, especially as his son had fainted on a crammed train during the public transport meltdown on Rugby World Cup opening night.
But a lawyer hired by Auckland Transport to inquire into that shambles largely absolved Veolia from blame, pointing the finger instead at event organisers for underestimating the size of crowds travelling to the opening events.
Official information released to the Herald by the council transport subsidiary has meanwhile disclosed that the French-owned infrastructure giant has been penalised only once for performance shortcomings in its five years of running Auckland's passenger trains.
That compared with three performance bonuses, two of which were for meeting patronage targets and the other for achieving customer satisfaction goals.
Auckland Transport has refused to say how much money was paid in bonuses or deducted as a penalty.
Neither is it disclosing the size of Veolia's management fee within a total annual gross cost of about $81.6 million for Auckland's passenger rail services.
But it is understood to be only a fraction of the $28.6 million which Auckland Transport said it paid KiwiRail in the financial year to June 30 for access to tracks, hiring drivers and locomotives, and maintaining trains.
The overall cost works out at about $7.56c for each of 10.8 million passenger trips taken annually, a patronage figure which has grown by 28.9 per cent in the past 12 months, according a report yesterday to Auckland Transport's monthly board meeting.