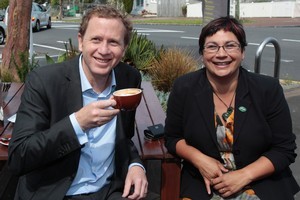 The Green Party is playing to the strengths of its crop of six new MPs giving them portfolios well fitted to their experience.
The Greens returning MPs, including co-leaders Metiria Turei and Russel Norman, have largely retained the portfolios they had last term with exception of Gareth Hughes who loses transport but picks up energy.
He is also the party "musterer" or whip, a role previously held by Kennedy Graham.
Mrs Turei will have overall responsibility of issues relating to society and justice, including Maori affairs while Dr Norman will maintain a wide-ranging brief over the economics and environment portfolios.
Amongst the new faces, former field officer and South Island co-ordinator for Forest and Bird Eugenie Sage is conservation spokeswoman.
Reflecting her background as an advocate for women's rights, Jan Logie was given women's issues.
Horticulturalist Steffan Browning will cover agriculture and other primary sector issues.
Former trade unionist and Auckland city councillor Denise Roche will handle industrial relations and Auckland issues.
Holly Walker is housing spokeswoman and former transport consultant Julie-Anne Genter has picked up the transport portfolio from Mr Hughes.