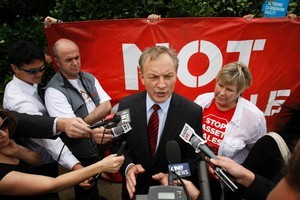 Former Labour leader Phil Goff says he wants to stay on in Parliament, and intends to stand again in 2014 unless he gets bored.
Mr Goff said he did not think it was appropriate for him to be on Labour's front bench after the change of leadership to David Shearer.
However, he did not intend to sit back and do nothing and hoped to stand in his Mt Roskill seat again in 2014.
"I never intended to stand down for a byelection and I don't intend to stand down in 2014. My intention would be to stand again in 2014, but that will depend on how I find the next two years."
He said the day he felt his "passion" waning or if the demands of the job he was given were not enought to satisfy him, he would go. However, he did not expect that to happen, saying the job of an MP was what you made it and there was plenty to keep him busy both in his electorate work and Parliament.
"If somebody offers me $2 million a year to take on some business enterprise in trade I would probably consider it seriously.
But at the moment, I'm happy in politics."
He said standing down from the leadership would free him up to become more involved in Parliament again.
He had told Mr Shearer what portfolios he was interested in. Neither he nor Mr Shearer would reveal what they were, but Mr Goff's previous interests have been in the foreign affairs and trade areas.
Mr Goff said he believed Mr Shearer would do a good job in the leadership and said he would be there to advise if needed.
"I'm going to be available to the new leadership team should they seek my advice. It's impotant they do their own thing and exercise their judgement, but if they come seeking my advice of course it will be given."
There is also fresh speculation that Labour's former deputy leader Annette King could stand for the Wellington mayoralty in 2013 - the Dominion Post reported this morning that she would not rule it out, saying she was keeping her options open.
If she did, it would force a byelection in her Rongotai electorate opening up a potential electorate seat for Andrew Little to stand in.