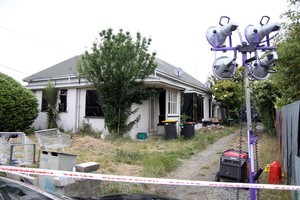 The tenants of the house central to the missing Christchurch teenager Hayden Miles homicide investigation have moved back in despite fears of vigilante arson attacks.
The four renters living in flats which the now infamous Cashel St property has been divided into by a private landlord say they fear for their lives.
Police investigating the murder of 16-year-old Miles yesterday recovered human remains from a crime scene at Ruru Lawn Cemetery in Linwood, near to the Cashel St house.
Formal identification of the remains had not yet been made but a post-mortem examination is expected later today.
The rundown Cashel St property, where the teen was last seen, has been subject to an extensive forensic examination over the last 11 days.
Police temporarily evicted the four tenants and found them replacement accommodation during their probe.
And late yesterday they were readmitted to the house but have today revealed fears that they might be caught up in a revenge attack on the house.
They say they're also "victims'' of the murder inquiry, as they moved in after August 22 when Miles went missing and had never even met him.

One tenant, Brendon O'Donnell, 39, is back living in a small dwelling house separate from the main building to the rear of the property.
He said his front room came under particular scrutiny by forensic police specialists.
Mr O'Donnell, unemployed, revealed his "shock'' at being evicted in the early hours of Friday, December 2.
He told APNZ: 'The cops came with a warrant at 8am and kicked me out of my house. I didn't know what was going on. It was a huge shock.
"I've only lived here eight weeks, so I came in after all of this was supposed to have happened.
"None of us actually met Hayden. We don't even know the people who attacked Hayden.

"When I moved into my flat where it all happened, it was a tip - rubbish everywhere, graffiti everywhere, holes in the wall and I was doing it up.''
"We were actually cleaning the property up when the cops came and kicked us out. It was full of rubbish and it was like a dump out the back.''
Miles was robbed of a cask of wine just hours before he was murdered, police allege.
A 27-year-old man appeared in court on Monday charged with his murder, while two others have been charged in relation Hayden's disappearance.
An 18-year-old woman granted name suppression is accused of being an accessory after the fact, whilea 35-year-old man is charged with robbing Hayden of a cask of wine on August 22 - the last day he was seen alive.
Last week police began a forensic search of a Cashel St property after Hayden's blood was found there.
Neighbouring properties within 200m were also searched.
One female tenant of 612 Cashel St raised concerns the house would be targeted by arsnonists or revengeful members of the public.
She fears it could become another 'House of Horrors' property similar to a house in the Aranui suburb of Christchurch where Jason Somerville murdered his wife Rebecca and neighbour Tisha Lowry in 2009 before disposing of the bodies under the floorboards.
The woman, who did not wish to be named, said: "The fire service have concerns for us especially after what happened to the Somerville house in Aranui.
"We didn't know the boy. We're victims in this too. The public interest in this is understandable because a kid has been murdered.
"But it's turned into a bit of a circus outside here, with cops and media coming and going. Every time I hear a car stop and idle outside for a while I get nervous and think we're going to be firebombed. It's been very stressful.''
She added: "I don't think we're going to get normality again. I would love to move out but we're stuck here. There are 2,000 homeless in this city and homes are hard to get. You need a $1500 bond and we're all beneficiaries, so it's impossible.''
The woman said the house has a "bad reputation'' and has been a refuge for people "with nowhere else to go.''
She added: "We just want people to know that we have nothing to do with Hayden and just to let us be. I stay right here and now this address is dirty. We've been labelled.
"We don't want to have Molotov cocktails thrown at us. New Zealanders aren't like that but they can be misinformed and emotions run high after something wicked like this happens.
"The police have questioned us all and we've been eliminated from inquiries, we're in the clear, and just want to be left alone.''
Another tenant has been living rough after the accommodation the police organised for him while their scene examinations were carried out didn't allow him entry with his two dogs.
He said: "I just left and have been living on the streets.''
The fourth tenant added: "We just want to get our lives back.''
Christchurch Fire Service today refused to comment on whether they have been told of threats to the property, referring all queries to their police counterparts.
Assistant area commander Greg Crawford earlier assured the tenants that they would be safe if it was targeted by arsonists.
The female tenant said she was glad Miles' body has been found so his family can now have "a proper burial.''
And she also welcomed his family to view the property if it helps them gain some closure.
She said: "Hayden's family can come and have a look round the place if they want - just not the general public.''



- APNZ