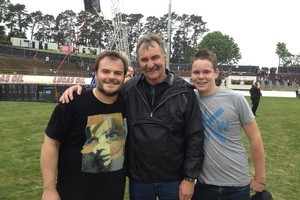 * Send us your Foo Fighters photos from last night's show here.
Having lost his mother to cancer in March, Kieran Anstis has had a tough year.
But yesterday, the 15-year-old music lover had the highlight of his life when he was introduced to his rock heroes Tenacious D.
The Howick teenager also got to chat and play frisbee with actor and musician Jack Black after Kieran's online guitar tutor - a musician with Black's Tenacious D - arranged to bring him backstage when the band headlined a gig at rain-soaked Western Springs with fellow US rockers the Foo Fighters before 50,000 fans last night.
Kieran has been playing guitar for almost three years but it wasn't until his mum Julie Anstis died that he began sitting down in front of the computer with his Fender Stratocaster each week for half-hour lessons with Tenacious D guitarist John Konesky.
"I'd already had a couple of tutors and then this opportunity came up," Kieran said.
"I've always followed Tenacious D - [guitarist] Kyle Gass influenced me quite a bit when I first started playing and when John put the offer up, God bless him, I decided to take it up."
He has since become good friends with the rocker.
"I see him as a normal person - I know how big he is in the music world but I just try to look past that because I wouldn't be able to learn otherwise."
"I know him well now. After I heard Tenacious D was coming, I asked him about it and he said he'd get me into the concert ... then I found out I've got full backstage access and he said he'd try to introduce me to everyone."
Meeting his mentor, as well as Black and Gass, before the show was "awesome".
"He was really generous doing that and he's so friendly and extremely talented."
He reckoned rubbing shoulders with the big names would leave his mates envious.
"I like rock and a lot of older music and they all get into different stuff like dubstep and techno ... but yeah, you could say that they are all a bit jealous."
With his mother in mind, he and dad Kelly Anstis agreed the night was a special one.
"The year hasn't been too flash, but we've got through - and things are going along a bit better now," said Mr Anstis, who also attended the show.
He said he was proud of his son - as his mother would be. "It's a special moment for him and a pretty cool one."