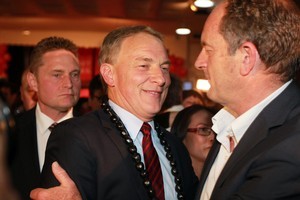 New Labour leader David Shearer is looking to unite opposition parties - though he has already received a cold shoulder from New Zealand First leader Winston Peters.
Messages of congratulations to Mr Shearer and new deputy leader Grant Robertson - elected yesterday - were quick to flow from across the political spectrum yesterday, although some supporters of David Cunliffe vented their disappointment.
In his first press conference as leader, Mr Shearer said he wanted to work more closely with other parties to mount a better opposition.
The Greens and the Mana Party said they looked forward to meeting Labour's new leadership team soon to discuss common ground. But Mr Peters declined to comment when contacted yesterday.
Former leader Phil Goff said Mr Shearer had the qualities to be a great leader, while the new team had no ties to the last Labour cabinet.
Comments on the left-leaning blog The Standard called for the party to unite behind the new leadership. But several users had previously endorsed Mr Cunliffe and they reacted strongly.
"Parliament is going to be a slaughterhouse with Labour on the block. Shearer will be eviscerated!" wrote Hami Shearlie. David H said National would have Mr Shearer "for breakfast". But Mike Smith wrote that Mr Shearer had the track record to lead.
The Council of Trade Unions and the Service and Food Workers Union applauded Mr Shearer's immediate call for a cross-party on the ministerial inquiry into poverty, a group established in a deal between the Maori and National parties.
Political commentator Bryce Edwards said Mr Shearer was a bold choice.
"Shearer probably has until 2013 to revive Labour's fortunes. If he fails, by that time Robertson will be ready to seize his chance."
National member and Kiwiblogger David Farrar called Mr Shearer a "decent man", but questioned the wisdom of choosing a deputy who had his own leadership ambitions.