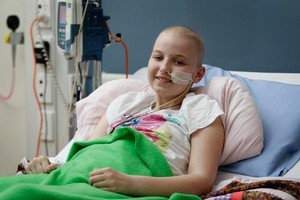 A dog called Una has brought happiness to Samantha Capill, an animal lover and cancer patient at Starship Hospital who is to return home to Nelson this week.
"She looks like she's smiling and she's very friendly," Samantha said of the furry visitor.
Samantha, 12, has been taken to Auckland three times this year by the Starship National Air Ambulance Service, for which a hospital charity is raising money.
She has spent more than seven months in the children's hospital since being diagnosed with acute lymphoblastic leukaemia in February.
Una is a husky who is brought to the hospital to provide pet therapy for patients.
When Samantha was asked yesterday what she was looking forward to about going home, she said: "Seeing my friends, seeing my pets."
She has two cockatiels, a black and white cat and a rabbit.
Samantha's mother, Kate Hurley, said her daughter was initially diagnosed as having a bladder infection but a week later - days after she started intermediate school - a blood test indicated she had leukaemia.
Samantha spent a night in Christchurch Hospital before being flown to Auckland. She was meant to return to Christchurch on February 22 but the earthquake hit that day and the hospital could not provide the chemotherapy Samantha required so she had to continue being treated at Starship until June, when she went home.
Two bouts of infection followed, in July and October, which led to emergency medical flights back to Auckland. The second infection resulted in septicaemia, serious blood poisoning.
"She was touch and go," said Ms Hurley. "We didn't know she was going to make it that time."
Ms Hurley said it had been a traumatic, life-changing year but Samantha was now "doing pretty well".
"We are at the end of the rough stuff."
Samantha is facing two more years of chemotherapy, which it is hoped will be given in the South Island.
The Starship Foundation's marketing and communications manager, Cindy Carleton, said it gave $1.5 million a year to the air ambulance for aviation costs and staff training.
The foundation is fundraising for the air ambulance by collecting used mobile phones. Working phones are refurbished and sold overseas; those beyond repair are recycled.
Check today's Herald for a Freepost envelope for sending old cellphones to the Starship Foundation.