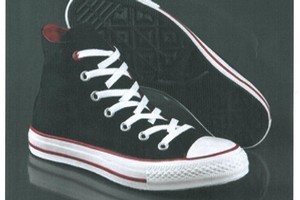 Police are checking missing person files after a headless skeleton was found in the garage of a vacant Auckland property.
A limited edition shoe found with the bones was available for only a short time in 2007 and may help identify the mystery man.
The bones were found in September by contractors demolishing a house on Barrack Rd in Mt Wellington.
The house, now owned by Transpower, has been empty for more than a year and police believe the remains were put there after the former residents moved out. They had been there for many years.
Detective Sergeant Graham Shand said police were moving closer to identifying the man but there was still a lot of ground to cover.
Experts, including an anthropologist, are checking the bones.
Mr Shand said an autopsy revealed the man was 1.57m to 1.64m tall, but his age and date of death were not known.
No cause of death had been established but there was no sign of injury or natural disease in the remains.
"We have been able to extract a DNA profile from the bones. But it hasn't been matched to anyone at the moment," he said.
But he said a shoe found with the bones could prove very helpful.
The left size 8 Converse-brand shoe was a special edition model and had a limited release.
"We know the death must have occurred after the release of the shoes. It is a Converse Chuck Taylor 'product red' style. It is different to other Chuck Taylor shoes because the top lace eyelet is red.
"This particular Converse product is imported and distributed around New Zealand by a single company. This style of shoe was first distributed in New Zealand by the company initially in May 2007."
Mr Shand had been working his way through missing person files.
"There's about 380 missing person files for males at present. We've been able to filter those down to about 43 that need to be looked at and investigated."
Mr Shand had obtained hard copies of all 43 files and was reading each one thoroughly.
"I'm going through and having a look at the circumstances of how each person disappeared ... we've started investigating the more probable ones."
He would not be drawn on who the 43 missing men were so as not to worry their families prematurely or unnecessarily.
More than 8000 people are reported missing to police each year, and of those about 95 per cent are found within two weeks and 50 per cent within the first two days.
Mr Shand said anyone with information about the bones, or who may think they know the identity of the man, should contact police immediately.
If you know who the man is, or have information that might help police identify him or the person who put the bones at Barrack Rd, contact Detective Sergeant Graham Shand on 09 524 1936 or contact Crimestoppers anonymously on 0800 555 111.