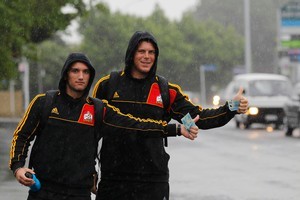 New Chiefs fullback Robbie Robinson was expecting a leisurely trip across to the Bay of Plenty for a training camp when he was stripped of his belongings and wallet and told to hit the road.
"I thought we were just going to jump in some minivans and travel across to Ohope but it didn't quite happen that way," he said.
As part of a team-building exercise, players had their bags and wallets taken off them. Left with nothing but a travelling partner, a list of challenges, a video camera and $10, they were then told to hitch their way to Ohope Top 10 Holiday Park.
Robinson said his companion lock Romana Graham used their travel time to doze leaving him on speaking duties with the driver.
The players had a number of tasks to complete while on the road that included getting a picture taken at a BNZ branch with staff, a picture of a famous landmark or sculpture and another of a swimming pool.
"It turned out that we actually got picked up for our first ride by a guy who worked at BNZ in Cambridge so that was good for us," said Robinson, 22.
"We had to get a photo of something famous so in Whakatane there's a sculpture of Moko the dolphin. We also had to get a photo of a pool; there's one here at the camping ground so that's handy.
"The only thing we are struggling with is this poem we have to write."
Robinson said he and Graham, with prop Sona Taumalolo and hooker Marcel Cummings-Toone, put their money together to buy $40 worth of fish and chips in Whakatane.
Afterwards, Robinson and Graham decided to walk their lunch off by walking the last 8km to Ohope but a kind woman stopped and gave them a lift.
Chiefs manager Stu Williams said all the players made it to Ohope safely by the 5pm deadline.
He said the exercise was a great way for the team to meet the public before their week-long training camp.
"They had a ball doing it. It was a little bit different but I think we achieved our objectives," he said.
"We are now down here and ready for the hard work."
On Thursday, during the camp, the squad will run a coaching clinic for a group of invited young players at Rex Morpeth Park from 3.30pm until 5.30pm.
All Blacks Richard Kahui and Sonny Bill Williams did not attend yesterday's exercise and will return to training on January 9.
WHEN TO SEE THE CHIEFS
* Open training session on Thursday from 11.30 am until 1.00pm at Whakatane Rugby Club.
* Fun run with the players to the top of the hill at 11.30am on Friday at Popular Lane, Papamoa Hills Regional Park.