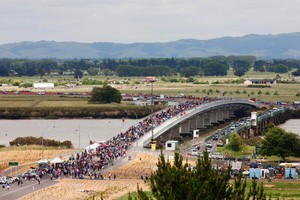 Traffic is flowing both ways for the first time over the Kopu Bridge after the Transport Agency opened the new two-lane link near Thames early yesterday.
The agency said traffic was moving smoothly over the $40 million bridge, on which Prime Minister John Key cut an opening ribbon at the weekend, in time to welcome holiday traffic to the Coromandel Peninsula.
"We're really pleased that holiday-makers and local motorists will enjoy safer and smoother journeys to and from the Coromandel," said project services manager Bryce Carter.
The new bridge across the Waihou River spells retirement for the rickety one-lane structure which served as the Coromandel's main gateway for 84 years, although construction traffic will use it for a few weeks more to avoid damaging seal on the replacement crossing.
Contractors yesterday started working longer hours to ensure a slip road opens "as soon as possible" from the eastern side of the new bridge to the Kopu industrial estate, which will be bypassed by most traffic.
That follows agitation from the Thames-Coromandel District Council and local businesses concerned about being isolated by a new road taking traffic directly east from the bridge to a roundabout intersection with the Thames-Paeroa highway.
The agency has yet to provide a date for the slip road's opening, but Mayor Glenn Leach said the council was contributing half of the estimated $12,000 cost provided it was ready by Christmas.
Meanwhile, the agency advises southbound drivers from Thames not to turn right at the old intersection of State Highway 25 with the Paeroa road, but to press on to the new roundabout to reach the bridge.