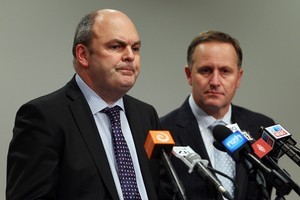 Prime Minister John Key has elevated Steven Joyce to his front bench and promoted Craig Foss to Commerce Minister in a round of cabinet appointments aimed at a "business-as-usual" approach to the second term.
Joyce, who led National's election campaign, takes on Economic Development, Science and Technology and Tertiary Education to rank fourth in the Cabinet.
The Energy and Resources portfolio is given to Phil Heatley, Transport to Gerry Brownlee and Foss is promoted as Minister of Commerce, Broadcasting and associate minister for Education and ACC.
The changes account for the departure of high-profile members, including Simon Power, who stood down for a private sector job.
Foss, who was elected as the MP for Tukituki in 2005, was born and educated in Lower Hutt and has a Bachelor of Commerce and Administration from Victoria University.
He was hired by the Bank of New Zealand treasury in 1985, with positions including managing the bank's Singapore treasury office and working as chief dealer of long-term interest rates.
Credit Suisse Financial Products, London employed Foss in 1993 and in 1998 he moved to Tokyo to manage the firm's Japan and Pacific trading operations.
Judith Collins has been promoted to the front bench with Justice, Accident Compensation Corp and Ethnic Affairs and is ranked fifth.
Gerry Brownlee, ranked third, retains his role as Minister for the Canterbury Earthquake Recovery.
Amy Adams received the final spot in the 20-strong Cabinet, picking up the Communications and Information Technology portfolios, and Internal Affairs, as well as an associate role for Canterbury Earthquake Recovery.
Tony Ryall, at sixth, keeps Health and as Minister of State Owned enterprises will be responsible for the partial sale of energy companies and Air New Zealand.
Other business-oriented appointments include David Carter, ranked 11th, retaining Agriculture, which has been expanded to include Minister for Primary Industries.
Nathan Guy becomes Minister of Immigration, Racing, Veterans' Affairs and associate for Primary Industries. Maurice Williamson retains Customs, Building and Construction, Land Information and Statistics outside of the Cabinet, where he is joined by Chris Tremain as Minister for Civil Defence, Consumer Affairs and associate for Tourism and Transport.
STEVEN JOYCE
Science and Innovation and Economic Development
Andy Hamilton, chief executive of Auckland business incubator The Icehouse, said it was a good move to give the portfolios to one minister. During National's last term, the two portfolios were held by separate ministers.
"I think [the Government] has taken on the feedback from industry that having those portfolios together was very important, and Minister Joyce is also pretty pragmatic," said Hamilton.
CRAIG FOSS
Commerce and Broadcasting
BusinessNZ chief executive Phil O'Reilly said new Minister of Commerce Craig Foss had been seen as a candidate for promotion.
"Certainly in the Wellington chat about likely or potential candidates for this role his name was among them so I don't think this will be a big surprise to business," O'Reilly said.
Foss had some big shoes to fill in terms of continuing with the legislative programme.
"Part of it is not only finishing Simon Power's work but also then going back to first principles ... to say 'okay' if we think the target is to be more competitive as a nation."
PHIL HEATLEY
Energy and Resources
Straterra chief executive Chris Baker said Heatley was associate spokesman for energy when National was in opposition and had a good understanding of the issues.
Heatley is ranked 16th in cabinet.
"In an ideal world, someone higher ranked would be better but let's not be churlish. There's a lot of positives."
Mineral Industries Association chief Doug Gordon said Heatley's appointment was welcome but the Government should be wary of bowing to any pressure to increase mining royalties and tax regimes.
"They need to be really careful. They could kill the goose before it has laid its golden egg."
AMY ADAMS
Communications and Information Technology
InternetNZ chief executive Vikram Kumar welcomed the second-term Selwyn MP's appointment and said he expected Adams, as a new member of the Cabinet, would come in with a "huge amount of energy and enthusiasm".
"That's going to make a big difference because she'd most certainly be wanting to make her mark," he said.
Adams is ranked 20th in the Cabinet and is also taking over the Internal Affairs portfolio.
- staff reporters