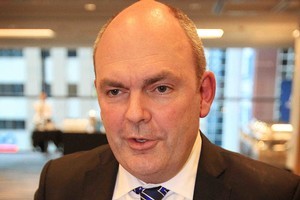 Given the job of steering the Government's programme to grow the economy, newly promoted Cabinet Minister Steven Joyce says one of his key task is get the public onside with plans that generate jobs but may be otherwise unpopular.
Mr Joyce yesterday gained the Economic Development, Science and Innovation, and Tertiary Education, Skills and Employment ministerial portfolios along with an associate finance role in Prime Minister John Key's Cabinet reshuffle.
Mr Key said his Cabinet rejig showed, "we're going to be emphasising jobs and growth as a big part of the next three years".
Mr Joyce's promotion from number 14 on the ministerial list during the last term - his first as an MP and a minister - to number 4 was one of the biggest jumps in yesterday's reshuffle.
"That reflects the reality of what's been a tremendous first term by Steven Joyce," said Mr Key.
"We've put together a portfolio we think can lift overall growth and competitiveness in the economy. We know there's a close link between innovation and economic performance."
While businesses criticised Mr Key's Government for not having a clear economic development plan during the previous three years, Mr Joyce said that was because attention was diverted initially by the Global Financial Crisis and then by the Canterbury earthquakes.
"Hopefully this term we'll get more clear air, and the opportunity to articulate more clearly what we're doing. Also with a bit more time and a chance to build on what we've done, people will start to get it more as well."
The combination of portfolios he assumed this week was "the first time it's been done in quite this way".
Having one minister in charge of the skills and training side of things, science and innovation, and also wider economic development was "potentially quite a positive platform for growth and jobs".
Mr Joyce believed he was well suited for the task because of his commercial experience but also indicated his powers of persuasion and the shrewd management of public opinion which has seen him successfully manage three National Party election campaigns will also be called on.
"One of the things I can do is get people to have a better understanding of between when you say you can't do something and as a result you don't get some jobs out of it.
"It's very easy in a political sense to argue we need a lot more jobs but by the way don't do this and that. Very quickly you end up saying the only solution is to do clean-tech jobs which frankly is not enough.
"We'll need to continue to push for opportunities whether it's in the resources sector or in financial services or in other areas. But in doing so we must understand the trade offs and make them pretty clearly, making sure we protect the environment but also the labour, health and safety side too, and I think we can do that."
The Government would be careful to pick its fights this term after being forced into an embarrassing u turn on plans for mining in conservation areas two years ago.
"Experience in the transport portfolio shows if you get the balance right and you pitch it in the right place then you'll find that most people will come along and say "yes that's something we need to do".
"Everything is about those sorts of trade offs and we're just going to keep working away but we do need to underline that all the time."
Mr Joyce said the economy was forecast to create 30,000 to 35,00 jobs a year over the next three or four years and the challenge was to go further than that.
"You don't just sit there as a politician and wave your magic wand and say there shall be jobs. The only way to do it is to boost business confidence, boost people's confidence to go into business if they aren't there now, and they only way you do that is remove some of the roadblocks that are unnecessarily in their way and do it with the wider permission of the population."