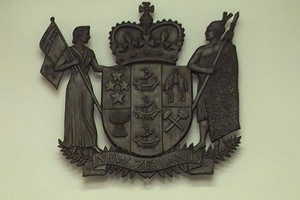 Two West Coast men who bashed an English tourist planned to blame their victim, a court has been told.
Kyle Mervyn Ashman and Wayne Rodger Ryan, both 23, admitted assaulting Jonathon Bonnick, 25, with intent to injure when they appeared in Greymouth District Court today.
Mr Bonnick suffered a bleeding and swollen nose, split lips, sore teeth and bruised thighs.
The police summary of facts said Ashman, Ryan and a third man confronted a trio of tourists as they were walking over the Cobden Bridge at 1.35am on September 10.
Ashman punched Mr Bonnick, knocking him to the ground and then repeatedly punched him in the head while Ryan delivered several kicks to the victim's body.
They were arrested by police who saw the assault.
Ryan told police the tourists had assaulted them, and Ashman told his co-offenders as they were being taken back to the police station, "all we need to say is that we got rolled by some English tourists".
Ashman and Ryan will be sentenced on February 24 after vacating their not guilty pleas today.
Judge Jane Farish warned the pair that any further offending over the holiday period would see them locked up until their February court appearance.
- APNZ