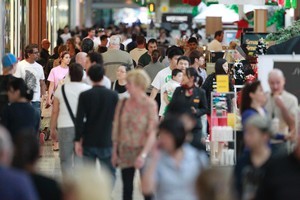 The Christmas rush has begun at malls and shopping precincts around the country, but the spending appears to be somewhat subdued, compared to pre-recession levels.
At Sylvia Park, most shoppers filling the stores yesterday were out looking for gifts.
"It's just been nuts. People are buying lots and lots of toys," said Helen Tai, the magazine co-ordinator at the mall's Whitcoulls bookshop.
Parents were going for items with educational value such as Lego and books, she said.
"But it's not as busy as it was two or three years ago - it was absolute mayhem then."
Bivouac Outdoor working manager Stu Kurth said trading was up on last year.
"It hasn't been too bad. Last year was kind of dead. But it hasn't been rammed - it comes in rushes."
Smaller, cheaper products such as head torches and knives had been popular, he said.
Extra staff were working during the Christmas period, when the store stayed open for longer.
Other stores in the mall have heightened their security to prevent theft during the busy times.
Janet Richardson and Leon McLeish, who dropped off their 13-year-old daughter at the mall and began their Christmas shopping, said it was not as busy as they had expected.
"I thought it would be busier. It's no busier than usual," Ms Richardson said.
"It's almost like people are leaving it till later - people don't have as much ready cash so they'll wait for the last pay cheque to come in."
They would look at digital cameras, bed linen, books, calendars and DVDs as gifts, they said.
"We've just started - it's terrible. It's really late this year."
Max Bollen had come to the mall with his wife but was putting off his Christmas shopping until later.
"I haven't done any - but my wife has been," Mr Bollen said as he waited for her outside Paper Plus. He would look to buy cards or "something from the Warehouse", he said.
Newmarket Business Association chief executive Ashley Church said Newmarket had had a very busy weekend. It had seen a significant pickup in business compared to last year, and he was expecting the coming weekend to be even busier.
"There's a rush in the last three or four days before Christmas. And it falls on Sunday this year so we expect the Saturday to be huge."
New Zealand Institute of Economic Research principal economist Shamubeel Eaqub said spending growth had slowed down three to six months ago.
"We have really seen consumer confidence come off.
"How confident are people? The answer is not very."
The labour market had been quite flat, wages had not gone up relative to living costs and people were not borrowing, he said.
"People are still in the slow grind of making do with less," Mr Eaqub said.
"It took 10 years to get to this level of indebtedness and it will take some time to get [out]."